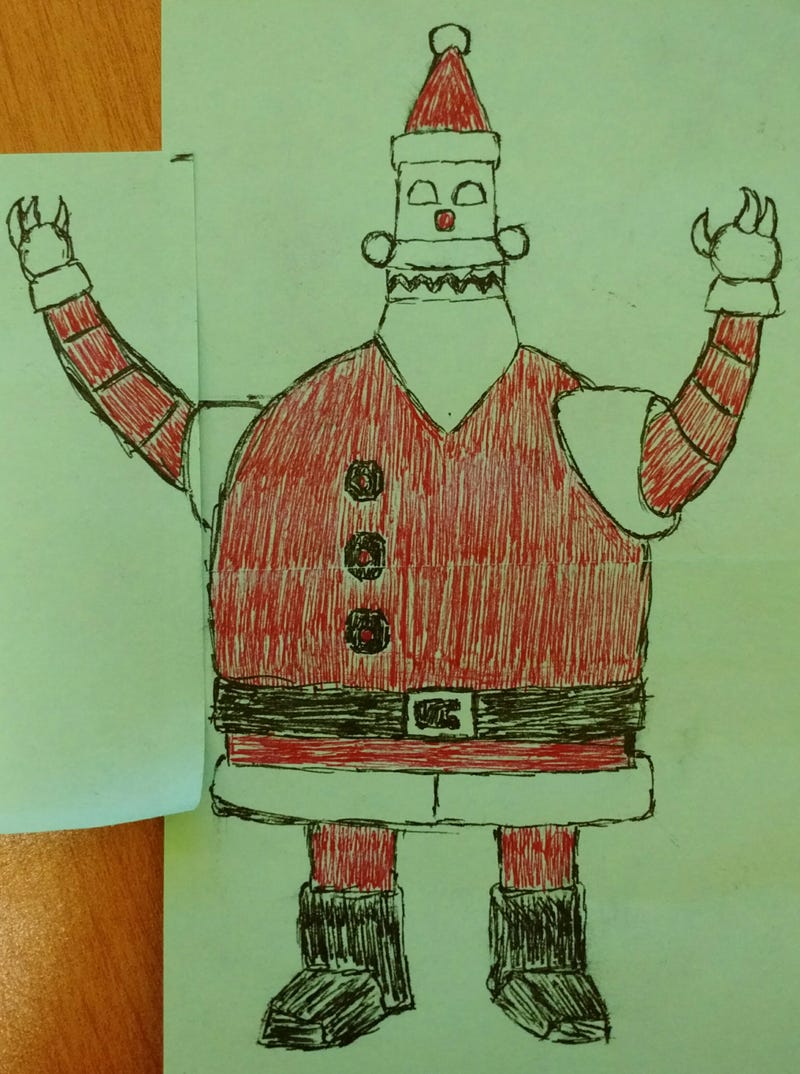 Before I get to it let me start by saying something important: Hi, I'm bangishotyou. The Odeck's resident Android guru? Fanboy? Something or other. But I'm not alone, there are dozens of us! [raises corn dog in the air] Dozens! (If you don't know by now I can work Arrested Development into almost sany post then you're new here, welcome!) But I digress, I haven't been posting much over the past few months because slow news days and NaNoWriMo and life and all that and recently I've been popping back in and realizing I'm seeing lots of new names I don't recognize or that my last post was shared across the Kinja-verse and I figured I'd just introduce myself and these to all of you new people who don't know who I am. These are regular posts for the Odeck and if it's Android related I'll discuss it or learn about it to share what info I can with you or that you all want to know or might not know you should know or whatever. So by all means let me have it. Questions, comments, etc. Send it my way and I'll do my best to address it all.
And yes, I did in fact draw that Robot Santa myself onto several Post-It notes. You have no idea how bored I get at work!
In keeping with my most recent post from last week here's another one to tide you over while I settle back into my groove and get back to doing the weekly regular Android ones, a post on all those lovely items you might not be aware are in the Play Store and elsewhere and which would make excellent gifts to yourself or others!
So throw on the Stay What You Are album by Saves the Day and get to getting and read on! (I have been loudly singing along to this album since last night and I have no clue why and there is nothing anyone can say to convince me that this isn't an amazing and delightful album in its entirety. I can seriously sing "See You" all day long and love every second of doing so.)
Also, I know I include a lot of links in these posts but they're usually their for a reason, folks. So, please, click them because they usually contain relevant articles worth reading, pics and videos of one sort or another, and sometimes just tidbits to break up the potential snoozefest that these posts might be to non-tech enthusiasts like myself who find all this stuff to be like reading gibberish and what have you. I aim to amuse when and where I can with these too!
APPS
Nova Launcher (free) and Nova Launcher Prime ($4.99)
Update Nova Launcher Prime is currently on sale for $0.99 (in the U.S. as confirmed by jinxe, MyPrettyFloralBonnet, and umataro42). It is also on sale across the globe, but prices vary and as no one has told me what those prices are I leave it to you to find out for yourself. The sale will continue until December 15th and I highly recommend you take advantage of it while it last because the last time it was so heavily discounted was about four years ago.
Update 2 Info on prices elsewhere straight from the horse's mouth.
Link to the thread about Finland not existing. Please, read it! It's hilarious in its insanity.
Seen in screenshot above and those below is the Fresh Icon Pack ($1.99) by Stealthychief. Although I am more often than not using Glim Icon Pack ($2.73) by Maximilian Keppeler (also available in a free version via Glim Lite) because it has over 2,500 themed icons and is regularly updated, plus the dev is a nice guy who's turned me on to other apps to help make my phone stand out. Like Evolve Wallpapers ($0.99) by DaviidH.
Maybe you want a non-stock homescreen, but tweaked to your heart's content. Maybe you want to try out a new icon pack that really makes your homescreen and app drawer pop. Maybe you're tired of seeing apps in your app drawer that you seldom or never use. Maybe you just want to get things a little more organized. Maybe you want to do some organization within organization and keep various apps from various developers or that have various functionality and use separated but still easily accessible.
Nova Launcher lets you do all that and more!
Look at the first screenshot I included. Ignoring the obvious icons and apps they represent, would you even suspect that I have quick access to an additional nine apps from that same screen? I bet you wouldn't. Hell, if I felt like being silly I could use a perfect AMOLED friendly solid black wallpaper and hide every single app you do see on there and still have instant access to everything that was originally there and those nine additional apps.
Actually, everything seen in the dock is double. Every single app in my dock can also be swiped on and will launch another app entirely. That's an additional five apps on top of the original nine that most people aren't even aware are there.
All of that is allowed for via gestures.
And that's just the tip of the iceberg in regards to what you can do with Nova Launcher and Nova Launcher Prime. Add in another customization app or two and the sky is truly the limit. Using those two in conjunction with one another, as you need Prime to access some of those extra features like gestures, and you can truly make your phone your own. Not even remotely joking, and anyone who has a nice setup they've made using the app (or ones like it) please chime in below in the comments and show me what you what you got!
KLWP Live Wallpaper Maker (free) / KLWP Live Wallpaper Pro Key ($2.99)
But maybe you want something a little more. Maybe you need to really make your homescreen stand out, that's where something like KLWP Live Wallpaper comes in. Through the use of Komponents, among other items that you yourself can set and determine the use of, you can basically turn your homescreen into a livewallpaper the likes of which few have even dreamed possible.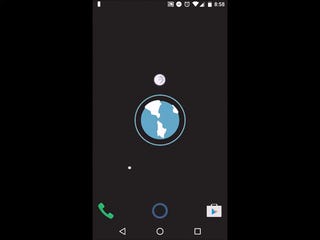 That GIF doesn't even begin to show you just what you can do with the app, my goodness the things you can do. I like to consider myself to be a bit more into this kind of stuff than most people and even I can't do some of the things I've seen people do with it. Luckily for me that's where the Pro Key comes in, it lets you import other people's setups (either via a zip file) or install them from the Play Store.

Seriously, folks, that's the kind of thing you can do in Kustom if you're so inclined. I mean I'm not that inclined, but hey to each their own!
KWGT Kustom Widget Maker (free) / KWGT Kustom Widget Pro Key ($2.99)
Then again maybe KLWP is a bit too much, maybe you like some of the komponents you can use but don't want to go all out and put in the effort required to figure out KLWP. That's fine, I don't blame you. Luckily that's where KWGT comes in, because it lets you use those same komponents as widgets instead.
Material Music Komponent (free)
Material Daze Widget Pack (free)
KWGT is for those who want something more without having to do too much more to achieve it and is perfect for those who want to start getting into the world of theming their homescreens but need a simple way to do so. Baby steps, ain't nothing wrong with them.
I have used oh so many podcast apps over the years and several years ago I finally took the plunge and tried Pocket Casts and that was it. No more did I jump from app to app in an attempt to find the perfect one, it'd been found in Pocket Casts.
I've written about the app before though, so I'm just going to copy/paste what I wrote previously.
It's got syncing! You sign up for an account and that's it. You've basically enabled syncing, get a new phone or tablet and all you have to do is sign in and you'll have your favorite podcasts at your fingertips again. No more manually adding them all from scratch.
Of course you can always cheat and ask for the OPML export file of your podcast and load it up quick, fast and in a hurry. Oh yeah, if anyone wants a copy of mine feel free to give a shout in the comments and I'll hook you up. I listen to lots of comedy ones, informative ones and all kinds of stuff in between. No politics or sports though. Sorry. If that's your cup of tea then whatever floats your boat but that ain't my thing.
Oh yeah, they also added a web player this past week! Suck it, Stitcher. I'm leaving you for someone who looks better and is far more responsive and a pain in the ass in general to deal with. You had your chance! It's over. Just go. Don't make it weird.
If you're a Pocket Casts user already, you can go here to sign up for early access. (They will send you an email saying you've signed up and they got your info, then they'll email you when you've officially been granted access. Woohoo!) You get a free 7-day trial and then you have to pay to play basically. Of course, it's a one time $9 fee for permanent access to "skip the trial and jump right in!", also there's a neat little imaege that shows up when you move your mouse over that option. No spoilers, you'll have to see it for yourself. Also, $9 is more than worth it and I'm sure a great many of you spend that possibly daily if you go out to eat at lunch or something. I know I do, but damnit that #2 double meat Whataburger (with cheese, pickles and bacon only thank you very much) is just so damn good!
Beyond that, not much else to add. My daily morning and afternoon commutes would be beyond unbearable were it not for this app.
This one is another one like Pocket Casts that provides me with hours of entertainment while on the road or at home, it's an app that gives you the 8tracks everything in a much more polished form than the official 8tracks app.
The app itself is free, but there are a few extras available as in-app purchases which can be purchased separately or in one bulk purchase that also guarantees you any future extras as they are added. I forget the exact pricing, but I know the all-in-one price is $7.99 and that gets you the two available separately extras in one go. Those extras are Chromecast support and the ability to create and edit playlist directly from your device.
The first thing you see when you fire the app up is what's "Hot". Scrolling down shows you other currently popular playlists and overall the selection is rarely if anything bad. Even for stuff I wouldn't normally listen to I've found more often than not that once I play something and move past at worst the first song or two I'll hear something that catches my attention.
Tapping on the slide out menu on the right leads to that and you can see what's up for additional perusal there. Feeds, down there at the bottom, are feeds you've added yourself to keep track of.
One personal favorite you can't quite see is the Noon Pacific, which I was turned onto by Alan Henry over at Lifehacker. You can listen to that feed there on the 8tracks link or directly on Noon Pacific's site. They've also got an app, but I wouldn't recommend it. It doesn't look bad, but it's got extremely limited functionality I'd say overall and the fact that it hasn't been updated since April really doesn't make it worth spending the $1.99 on. It looks wonderful otherwise though.