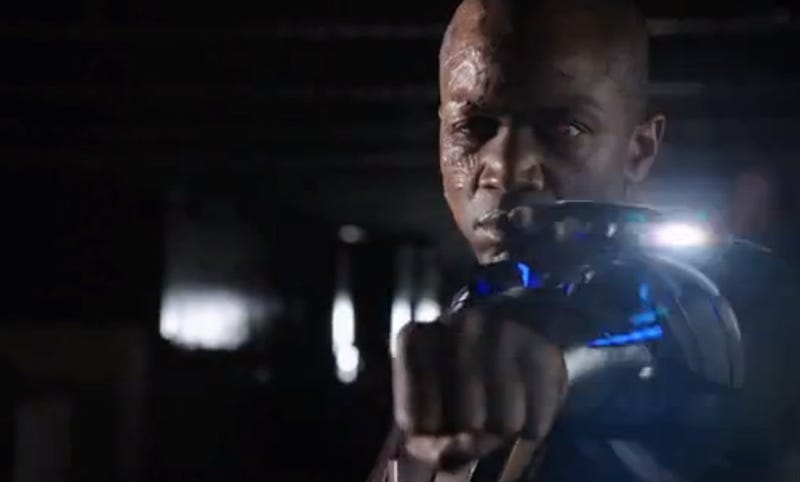 Agents of SHIELD finally show how deep the connection with the movies goes - and everything gets turned on its head because of it! Also, did Wolverine's old bosses just get namechecked? (Answer: Yes.)
The episode started off slow but quickly built to Whiskey Tango Foxtrot levels. Is this a good thing or a bad thing for the show's future? Time will tell.
The Amazing Spoiler-light Recap: Following up on recent leads on the Clairvoyant, Coulson calls in his top-ranking SHIELD agent buddies. They, along with the band of irregulars, go hunting - but the search gets sidetracked by the Captain America sequel and bad guys that seem to think three steps ahead. Loyalties are strained, betrayals are outed and some agents do some really crazy things. When they say nothing will be the same after this, they might actually mean it this time.
Now, the Marvel Connections:
After Garrett and Triplet face-off with Deathlok, SHIELD pools its resources. Coulson's plan is to have Skye - now a SHIELD agent - go through SHIELD's list of individuals rejected from the Index for apparently not being Registered Gifted™. The Official Index of the Marvel Universe - sorry, just Index of Registered Gifted, was first mentioned in "Girl in the Flower Dress" (though I wish they called it the Handbook), and the theory is that the mastermind behind Centipede, the Clairvoyant, might be on the list that is not on the list (an index of things that aren't indexed?). Garrett hopes it isn't the Amazing Kreskin, which is a reference to (now) obscure mentalist from the 1970s. Seems a shame they couldn't have mentioned a Marvel mentalist, like Merzah the Mystic, who recently appeared in X-Men: Legacy.