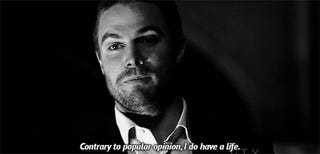 I mean it's not like I spend ALL my time on Kinja....just more of it than is probably healthy.
---
Did you know that Stephen Amell is a fan of the Toronto Blue Jays and campaigned for 3B Josh Donaldson to get into the All Star game?
I LOVE baseball. My team is the Red Sox but lets be honest, they suck balls this year. GOOD JOB THERE CHERINGTON! DON'T SPEND MONEY FOR THE BEST PITCHER THE TEAM HAS HAD IN YEARS, JUST LET HJIM GO TO THE CUBS AND OVER PAY FOR A FAT THIRD BASEMAN!!...sorry about that.
Anyway, I love my team and so does Arrow's Stephen Amell. Stephen is a fan of the local Toronto teams, like the NHL team Toronto Maple Leafs. He has a sense of humor, often suggesting on Twitter that his followers turn off the hockey game and watch Arrow instead.
He is also a fan of the Toronto Blue Jays. In June of this year he campaigned for third baseman to make it to the All Star Game.