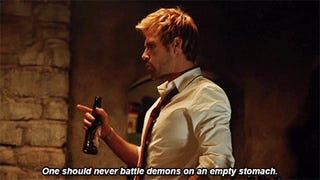 Truer words were never spoken
---
Here we are on Thursday and FOTD DC TV week is going strong. Let's continue by looking at a show that was sadly cancelled only after one season, but will get a small reprive with a one episode crossover with Arrow, Constantine. More precisely, we're going to look into the background of the character design.
Did you know that John Constantine's design was based on Sting?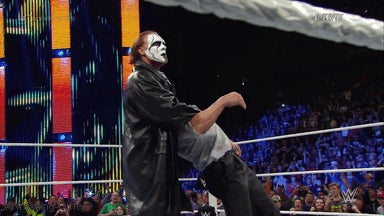 No, not that Sting....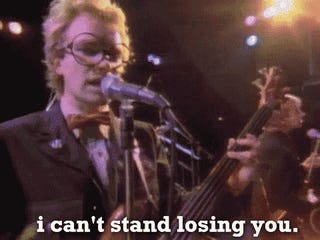 THAT Sting.
Here is what the Wiki Whose Editors Stand To Close To Me has to say....
In these early appearances, Constantine was depicted as a sorcerer of questionable morality, whose appearance was based on that of the musician Sting (specifically, as Sting appeared in the films Brimstone and Treacle and Quadrophenia). Alan Moore created the character after artists Stephen R. Bissette and John Totleben, who were fans of the Police, expressed a desire to draw a character who looked like Sting.[4][8] They had already drawn at least one such character in Sting's likeness, as a briefly glimpsed background figure wearing a black-and-red-striped T-shirt, in Swamp Thing No. 25 (1984). In his earliest Swamp Thing appearances, the character is drawn with a marked resemblance to Sting, and in Swamp Thing No. 51, Constantine appears on a boat with the name "The Honourable Gordon Sumner" on the bow.

John Constantine's official debut was not until Swamp Thing No. 37 when he was drawn by Rick Veitch. Moore describes the creation of Constantine as being drawn from a number of "really good ideas... about serial killers, theWinchester House, and... want[ing] to draw Sting in a story."[9] Calling these disparate strands a "big intellectual puzzle", Constantine was the result of "fit[ting] it all together."[9] Initially created "purely to get Sting into the story", by the time of the 1985 San Diego ComicCon, Moore stated that "[i]t's turning into something more than that now."[9] Veitch's contribution was to give Constantine an earring, something he considered risque for 1985.[10]
For comparison here is the trailer for Brimstone and Treacle and a picture of Sting on the DVD cover
I found a story from 2012 on, of all things, an Oklahoma news site NewsOK. It was a story about Sting's 61st Birthday.