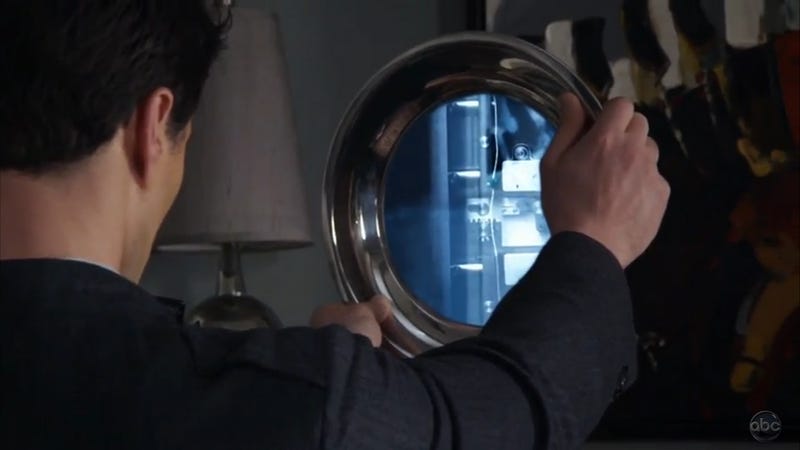 There was a rerun for Marvel's Agents of SHIELD this week, so let's hop on Doom's time platform and hit the one episode whose secrets have yet to be revealed — the pilot!
This will be longer than most Secrets of SHIELD, if for no other reason than to (belatedly) introduce the main cast and concepts.
The month-old spoiler-light recap: A non-team comes together, characters are introduced, a season antagonist is hinted at, a young hacktivist learns to care and a single father nearly blows his lid.
So get on with it already:
Can I just note that the strangely sped-up HD footage of the city is oddly evocative of the BBC Sherlock opening? Is it just me?
Also, did they pay Hemsworth for the use of his arm in that shot? Maria Hill does say he has impressive arms.
While we're at it, it's refreshing to have a sci-fi genre show that doesn't need a distinctive opening. Personally, I tend to like opening songs, like those of True Blood, X-Files, and in its own way, even Enterprise, but everyone I watch shows with can't stand 'em. This show eschews the whole mess by doing away with an opening song altogether.
In the first real scene of the series, Mike, Ace and their friend Bernie (also known as Sir Not-Otherwise-Appearing-In-this-Episode) are in front of a toy store checking out "Battle of New York" action figures. Think about this for a second: here the people of Earth have a tragedy and shock of mind-boggling proportions as they learn not only do aliens exist, but they exist to blow the living snot out of New York City. Imagine if we had 9-11 action figures in the year following the terrorist attacks. It just wouldn't happen.
However, in the Marvel Universe, there is a tradition of superheroes getting officially licensed goods going way back to the '40s. Captain America's comic books inspired numerous superheroes, the Fantastic Four's Human Torch first learned about the Hulk and Sub-Mariner through comics, heck, even Steve Rogers worked as a professional artist on the "Captain America" comic for a while. More recently, the X-Statix and Thunderbolts, two teams known for bloody public battles with high fatality rates, were public darlings; their toys and other merchandise sold out at stores everywhere.
Back to Mike Peterson for a moment. The first Unregistered Gifted™ introduced in the series, Mike Peterson is empowered by the mysterious Big Bad organization with "the serum Dr. Erskine introduced... alien metal, gamma radiation," and Extremis. For those keeping track at home, Mike has the same power sources as Captain America (serum), Thor (whose hammer is made of the alien metal Uru, although obviously this is also a reference to the Chitauri from the Avengers movie), Hulk (gamma rays) and Iron Man (who dealt with Extremis in Iron Man 3). He is a walking Avenger. Strangely, however, he's named after a completely unrelated character: the best friend of the psychotic superhero Slapstick.
Using his powers, Mike climbs up a building Wolverine style. Wolverine made this method of climbing famous, but other heroes use it from time to time. Interestingly, Mike is also called the "Hooded Hero" or "Hooded Man," the latter being a moniker used by an alternate future counterpart of Wolverine.
On his way down from the building, Mike breaks the pavement with a solid landing. Why do superheroes hate city roads so much lately? Superman destroys pavement when landing (and taking off sometimes) and Thor destroys pavement when landing - this must drive city workers nuts.
Agent Ward is introduced to us in true James Bond style, as the lone secret agent using all manner of gadgets to get through a day's work. As mentioned before, gadgets are part and parcel for SHIELD - even if some of the science doesn't quite make sense (either that or the guy in the tie holds his glass in a really weird way). This is essential as, in a world of superheroes, spies need to up their game even further than the double-Os of MI6. Also true to the James Bond inspiration, there's a beautiful blond in negligee who couldn't care less about the spies killing each other in the next room.
Ward is quick to point out that " someone really wanted our initials to spell out SHIELD," and this couldn't be more true. Way back in the day, SHIELD was known as the Supreme Headquarters, International Espionage, Law-Enforcement Division, but then it broke up and was put back together as the Strategic Hazard Intervention Espionage Logistics Directorate only to be dismantled again and brought back as the movie-friendly Strategic Homeland Intervention, Enforcement and Logistics Division. Learn more about the name changes in this handy song.
In his debriefing, Ward reveals that the mysterious (and thus-far unexplained) Vanchat was trying to sell Chitauri neural links. Vanchat was also responsible for killing (or capturing) Coulson's previous team, as mentioned in the episode "Eye Spy," but otherwise, the viewers know nothing about him (her? It? Them?) yet. At any rate, the Chitauri are the aliens from the Avengers movie, although they first appeared in Marvel's Ultimate Universe, an alternate reality where things are a little bit more gritty and bloody than in the main universe. The Chitauri have since appeared in the regular Marvel Comics universe (known as Earth-616), and are generally thought of as very much like the shape-shifting Skrulls, although their exact nature in the main universe (or the movies for that matter) has yet to be fleshed out.