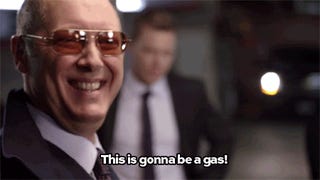 February 7th was James Spader's 56th birthday. Let's celebrate with some facts about this wonderful actor who brought Ultron to life,brought us the world of Stargate and is currently playing the magnificent bastard Raymond "Red" Reddington on NBC's The Blacklist.
---
#1 He thought the Stargate script was "awful".
James did an interview in 1994 for Entertainment Weekly. In that interview he says he felt the script for the movie was awful but felt that the adventure of shooting in the Arizona desert will make for a great adventure on the screen.
In that same interview, he discusses how he doesn't do movies that he would want to watch.
So was Stargate any different? Nope.
The full interview is available online.