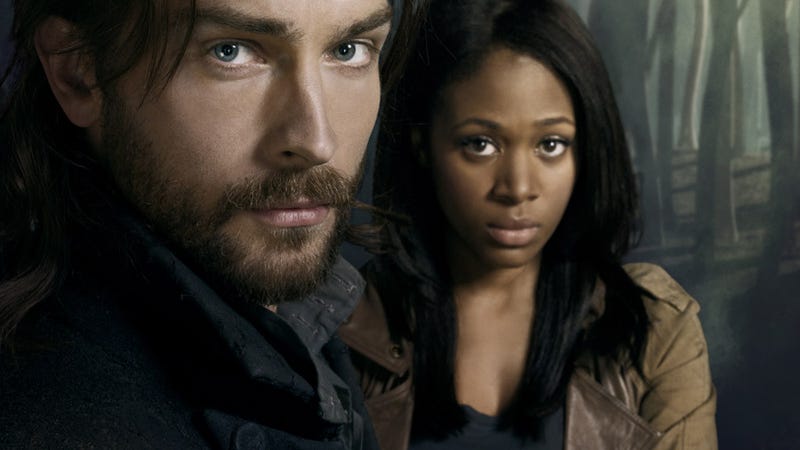 This is the megathread for discussion of Fox's Sleepy Hollow. This thread is for discussion of Episode 1 of Season 3, "I Witness". Be advised, there will be spoilers below. Also if you have read spoilers on I09's Morning Spoilers please leave them out of the comments, not everyone here reads that post.
Well folks, it's been a long wait but our favorite police leiutanant and our favorite refugee from an era where people crapped outside on a regular basis are back together to....bicker....and discuss stuff that occurred off screen.....oh yeah and that whole fighting demons thing. Overall I thought this was a good kick off to the season. It felt like a reboot of sorts which is probably wise when you consider how the last season ended. Here are a few of my thoughts on the premiere, "I, Witness".
New villain Pandora takes out Headless right at the beginning. She's quite spooky and myserious, until she goes from her gothic dress to a more modern look, then she just seems kind of ditzy. But she's powerful enough to turn Headless into dust and locked him into some kind of magical box. I hope this isn't long term because Headless was gone way to much last year
Speaking of new characters, i'll just throw it out that as if this episode, I hate Betsy Ross. Not in a "I WANT TO KILL THAT PERSON" way but in a "You are going to be a annoying horribly written character". When we see her in action in the 18th Century and the way Ichabod describes her, I realized they must not have known of the phrase Mary Sue in the 1700s. But she may get better, so I will keep an open mind. It just feels, right now, that the writers haven't learned their lessons from Katrina.
Those are the new, but what about the old? Jenny is back on board but Irving has up and left, saying it's for his family protection. There was no mention of Captain Reyes or Hawley which is probably for the best.
Abbie has fulfilled her dream of passing the Quantico training and joining the FBI and her boss is played by C Thomas Howell. They have a couple of nice scenes and play off each other well, in the same way Nichole played off Clacy Brown well in the pilot. But like Sheriff Corbin, her FBI boss is not long for this world. Of course saying things like "I like him, I bust my chops but he's a good agent" is never a good sign.. Abbie is not, what we would call, Genre Savvy.