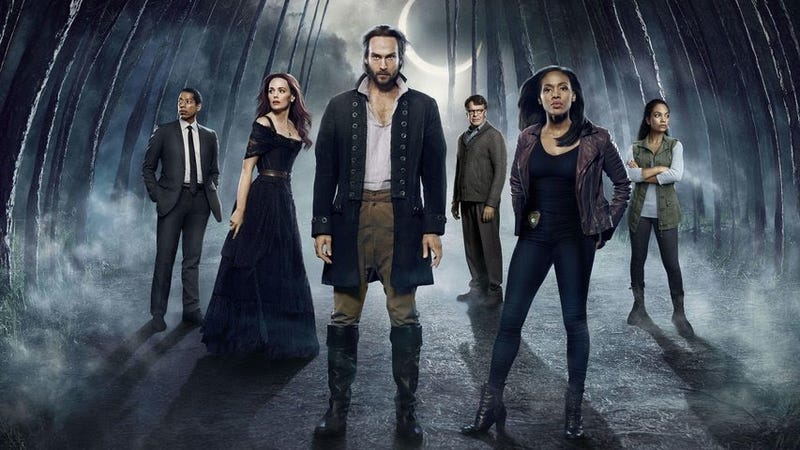 I know i normally use a picture from the episode we are discussing. However considering the way this season, and possibly series ended, I wanted to look back on happier times. As always, spoilers beyond.
I'm just going to come right out and say it. This was shit.
This ending....arghh! I am understanding how the fans of TWD and Arrow felt. This feels like work done by a show runner who has never taken the time to understand the show he is running or simply doesn't care. The "threat" of Hidden is over with in about 20 minutes, then Pandora turns heel, Headless's music drops and he gets a huge pop from the audience as he runs down to the ring....oh wait, you mean this is a tv drama and not a wrestling program? Funny, it sure seemed like it was being booked the same way you book a WWE PPV.
I'll try to be positive to kick things off. I loved this scene.
Crane has lapped Abbie in pop culture. I love it. This moment when they use the box on Worst...God...Ever was a nice moment as well.
We have yet another great episode by Nicole and Tom. Lyndie Greenwood did good with what little she had to do.
That's not the problem. The problem is the story and how they end it.
---
So where to start? I suppose I could recap the plot of this lovely finale. But let's be honest with ourselves, does anyone really care about Hidden or Pandora. Once the Box was back in play and fully charged, Hidden was zapped of all power. Jenny did get to put a bullet in him as payback for what he did to Joe last week. I love Jenny. Lyndie had another great week. I could feel her pain when she had to tell Ichabod and Abbie about Joe.

It turns out that of course, Pandora was using them for her own gains and has now become a goddess because.....reasons. I honestly don't care. I feel bad for Shannyn Sossamon. She was actually given some material to work with here and if she had been allowed to be the villain from the beginning it might have help. But at this point I can't care.
Pandora is ultimately defeated by someone we thought we would never see again. And if you're like me and reading I09's Morning Spoilers, you were pretty confident you would not see again since it was reported before the season started he would be not appear. I am referring to Headless, or Death as he is called. Oddly, never refereed to as Abraham. That cannot be an accident, trying to get us to forget better seasons perhaps.
Crane gives Headless his skull to increase his power far more than it was when Pandora encountered him in the first episode. Since Moloch is dead it will no longer cause the end time. How convenient. Headless decides to team up with Ichabod this one time and despite being a goddess, a headless dude on a horse with an ax is giving Pandora a lot of trouble. In the end they beat and kill her for reasons and Headless decides not to kill his sworn enemy and the one who murdered the woman he loved, simply because he asked nicely.
Of course we can't forget about Betsy. They found her in the catacombs at the end of "Deleware". Ichabod is insistent that they not tell her about the future since the well that brought Abbie back will return her to her own time period and they can't risk contaminating the future. That's an interesting story idea which means it will go nowhere and be a complete waste of time. We get a Betsy pinning for Ichabod moment and then she leaves, to never be seen again. Nicki Reed continues to employ a bold strategy of not displaying emotions or doing that new fangled "acting".
It does explain why Betsy never looked for him agan after the Crossing Of The Deleware. It's also the first of many times where someone tells Crane he's in love with Abbie.
---
Ultimately the meat of the episode and what gets the most focus is Abbie. They do the box regeneration incantation and while it makes the box whole, it doesn't look quite the same.

Read more at: