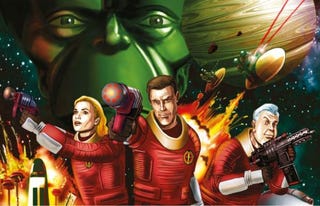 Space-star Dan Dare is returning to the airwaves, or at least CD and digital download. Eagle's eponymous hero returns this December in a bumper pack of audio adventures from B7 Media, released through eternal Doctor Who cheerleaders Big Finish.
I'm not sure if I should greet the news with unbridled joy or run for the hills. Initial artwork for the series looks like it was left over from an Eighties video game, really quite horrible and out of keeping with the tabloid pages of the original comic.
The new production stars Ed Stoppard as Dan Dare, Geoff McGivern as his batman, Digby, Heida Reed as Professor Peabody, and Raad Rawi as the Mekon.
The December release adapts the first three Dare adventures from the Fifties Eagle, Voyage to Venus, The Red Moon Mystery, and Marooned on Mercury and comes with a fourth disc with one of those "Making of" documentaries that melt your brain.
It's not the first audio adaptation for Dan Dare. Back in the day, the original comic was adapted for Radio Luxembourg. Noel Johnson, otherwise known as Dick Barton, played Dan. The serial ran for five years with 15-minute Horlicks sponsored installments running nightly. Only two-episodes are known to exist but the initial cry of "Spaceships Away" is etched on the minds of a generation.
The surviving episodes are under Sentence of Death from January 1952 and The Lost World on Mars from March 1953.
In 1990, the BBC got in on the act with a four-part adaptation of the Venus story. Mick Ford played Dan and Terrence Alexander (who I think had performed in the Radio Luxembourg series) was Spacefleet Controller Sir Hubert Guest.