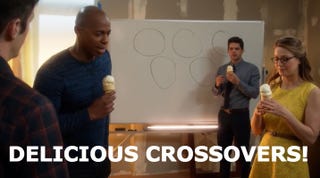 FLASH AHAAAAAAAAAAAAA! I don't usually do reaction threads for this show, but I don't see anyone doing them and I think this is an episode people might want to comment on. So come react. Spoilers will abound.
So let's get this mother going!
EDIT: To add Cool Breeze's analysis of the episode. What? It's been on the front page of the ODeck for hours? It doesn't make sense that I publish it now here? I don't care. It's the Flash. It's Supergirl. It doesn't have to make sense! Speedforce! Science! Etcetera!