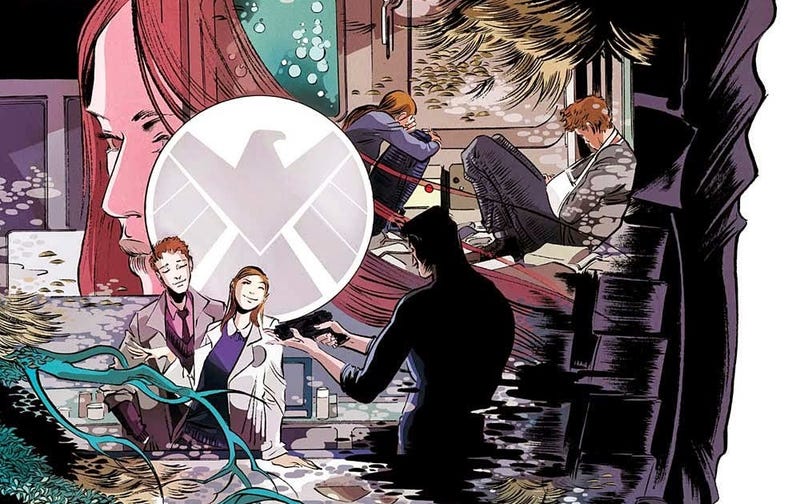 As the series reaches its penultimate episode, the drama-knife gets twisted in deeper and deeper as characters unhinge - making for entertaining viewing. Who will live, who will die?
This episode's art by Emma Rios. I cannot stress how much I'm enjoying seeing cover art for each individual episode of Agents of SHIELD.
Emma Rios has done some great work for Marvel in the past and has most recently illustrated Pretty Deadly from Image Comics.
Marvel, keep doing this next season!
This episode is not quite as strong as the past several episode, but it still stands as a strong episode. Considering "Ragtag" served mainly as exposition for the up-coming season finale, it has still pretty dang interesting.
Spoiler-light recap: Ward recalls his formative years as Garrett's protégé, Coulson and the gang use archaic spy gear to track down Hydra, and some of our favourite characters find themselves without a paddle now that there's no agency to back them up.
On with the Marvel Connections:
Let's start with Ward's backstory. Some 15 years ago (when Ward was a young teen), it seems he set his house on fire - possibly an attempt to murder his even-more-vicious older brother (although he denies it). While he awaited trial for attempted murder (with the possibility of being tried as an adult) in the Juvenile Secure Unit, Plymouth, Massachusetts, Ward meets with Garrett, who makes him an offer he can't refuse. SHIELD/Hydra agents spring Ward from juvie, and it's off to Garrett's private duck pond in the woods for training. Ward is left with Buddy the dog and little else for six months - and although I was convinced he was going to eat the dog, he managed to fend for himself before Garrett returned. Five years later, Garret, Ward and Buddy continue to train. Garrett reveals he nearly died after an IED exploded near Sarajevo (10 years before he met Ward), and tells Ward not to fully trust SHIELD, and to join Hydra. As soon as Ward officially enters SHIELD, Garrett orders Ward to kill Buddy, although the audience his left wondering whether Garrett or Ward finally pulled the trigger.
During one of the flashback scenes, Garrett jokes that he's "not a mind-reader," an obvious allusion to his later title as "the Clairvoyant." The Massachusetts setting may also be something of an allusion, as Ward's family has previously been compared to the Kennedys.