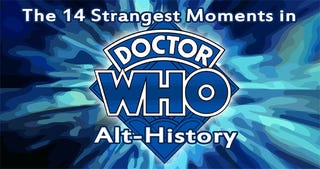 With the 50th anniversary of the longest running science-fiction television series in the world less than a week away, now is the perfect time to reflect on some of those moments when the international cult phenomenon we all know and love might have gone off in an entirely different direction.
Somewhere out there in the multiverse, there's a version of the Doctor who's Welsh, never encountered the Daleks, never regenerated, lost his memory (and his clothes), was ordered to go to a disco by Margaret Thatcher, got involved in a love triangle with himself, and wears a toothbrush in his left breast pocket. Yes, ladies and gentlemen, it's time to take a step sideways in time, as we bust through the regeneration limit and take a look back at 14 strange moments of Doctor Who might-have-been.
1) That time the First Doctor was portrayed by a hunky 37 year-old Welshman
Let's begin at the beginning. Actually, a bit before the beginning, during the early pre-pre production stages of Doctor Who, when series creator Sydney Newman appointed a man named Rex Tucker from the Children's Drama department to the role of in-situ producer, where he would oversee the basic day-to-day needs of the project prior to the hiring of a full-time production staff. Had events played out differently, Tucker would have likely stayed on to direct the first block of filming, and would have been the man tasked with bringing the very first episode of Doctor Who to life instead of relative newcomer, Waris Hussein.
At any rate, it was common enough practice at this time for producer-director's to have creative control of the series they were overseeing, so unbeknownst to Sydney (who was off on vacation), Rex Tucker had begun to do just that; working on several design aspects of the show, which including at least tentatively offered the titular role to his friend Hugh David, a 37-year-old Welshman best known for his portrayal of suave crime-fighter Stephen Drummond in the popular Granada drama series Knight Errant Limited.
Nobody quite knows why Tucker offered the part to David, as he was about as far away from Newman's description of a "frail old scientist" as you could get. It's also hard to imagine Newman ever allowing such a casting choice to go through, but it ended up being a moot point anyways, as David turned down the role, having grown uncomfortable with the amount of public attention he was receiving from Knight Errant Limited, and not wanting to play another leading man. Still, had he accepted (and been accepted), he would have been the youngest actor to portray the Doctor until Peter Davison took over in 1981. Interestingly enough, David's association with Doctor Who didn't end there. He moved away from acting a short time later to pursue a career as a director— a career which would see him step behind the camera for two of Patrick Troughton's most memorable stories, The Highlanders and Fury From the Deep.
2) That time Derivatron-mania swept the UK
By all rights, the Doctor's most memorable adversaries never should have existed, and we owe nearly as much to Verity Lambert and David Whitaker for sneaking them onto our screens as we do Terry Nation and Ray Cusick for designing them.
The Mutants (aka The Daleks) was a late game substitute for another story, The Masters of Luxor, which was fully scripted and ready to go, when the production order changed. Script editor David Whitaker had been impressed with Terry Nation's work on the sci-fi anthology series Out of This World, and asked him to submit scripts for a 7-part serial involving the mutated survivors of a nuclear war for later in the season. Terry turned in his scripts so quickly and ahead of schedule, they were literally the only ones ready to fit into that now vacant second production slot, which was just as well, as BBC head of serials Donald Wilson reportedly hated them enough that he called Verity Lambert into his office and demanded to know if she had anything else that could be put on in their place. Luckily, Verity wasn't about to be dissuaded, and Wilson was unable to voice his dissatisfaction to his direct supervisor, Sydney Newman, who just happened to to be off on holiday again. Sydney had given the production team a standing order of "no bug-eyed monsters," but due to this fluke of timing, completely missed out on seeing any scripts or production designs for this serial, only encountering the Daleks when they finally appeared on his television screen at home. (At which point he was livid... at least until the ratings came in, that is.)
As for The Masters of Luxor; the story has subsequently been released as a Big Finish audio adventure, but sufficed to say, it's not even remotely in the same class as Terry Nation's television masterpiece. The plot, such as it stands, is a fairly uninspired adventure involving the TARDIS crew investigating a seemingly abandoned planet full of robots called Derivatrons, who decide to build themselves an android version of Rocky from The Rocky Horror Picture Show called "The Perfect One" because they need somebody with free will and gloriously shiny pecs to order them about... or something. The Perfect One is physically perfect, but he's not "alive"; a fault he tries to remedy by strapping scientists to tables and disintegrating them to isolate their "life essence." Oh, and for some reason, he has an atomic bomb wired up to his brain, so if he falls and hits his head on a coffee table, the entire planet blows up. (Alas, I'm not kidding about this bit. It's the cliffhanger to episode 4) You can read a full plot synopsis here, but trust me, it's six episodes of mind-numbing tedium, and would have made a poor followup to Anthony Coburn's other contribution to Doctor Who, the script for An Unearthly Child. (Plus it's hard to imagine any child getting excited about finding a vinyl Derivatron playsuit under their Christmas tree)
3) That time the Daleks ended up even more phallic-looking
There's no question that the Daleks are pivotal to the success of Doctor Who, and one of the factors contributing to their lasting fame is their distinctly non-humanoid shape, as designed by Ray Cusick. However, Ray was not the original designer attached to the first Dalek serial. The job was originally assigned to another young man working in the BBC design department by the name of Ridley Scott. Yes, that Ridley Scott. It was only due to a last minute scheduling conflict that Ridley was forced to back out, and Ray was given the unenviable task of designing an iconic new alien menace on a meager BBC production budget. In desperation, he turned to Terry Nation for advice, who mentioned seeing a performance by a Russian ballet troupe who wore extremely long dresses which gave the impression of gliding smoothly along the floor. Had that conversation not taken place, the Daleks would have certainly looked quite different from how they do now, though with Ridley Scott an their creator, one wonders if the poor pepperpots would have ever made it past the BBC censors.
4) That time the First Doctor never regenerated
Once Verity Lambert left her role as producer following the second season, her replacement, John Wiles, wanted to take the series in a darker direction, which irked the already upset William Hartnell, and led to several conflicts both on and off the set. It didn't help that Hartnell was still reeling from the loss of his co-stars, and the passing of the aunt that raised him (who's funeral he wasn't even able to attend because the shooting schedule on The Myth Makers was so tight) not to mention suffering from arteriosclerosis, which was beginning to impact both his mobility and speech. Wiles became so frustrated with Hartnell's behavior that he reportedly sought to have his contract terminated and replaced by another actor during the pre-production stages of The Celestial Toymaker, presumably during the protracted sequence where the 1st Doctor is rendered invisible and forced to play the Trilogic game by the Celestial Toymaker.
Fortunately, the idea was shot down by BBC head of serials, Gerald Savory, who ultimately chose to have John Wiles replaced instead. Had Wile's proposal gone through as planned, then the impact on the series would have been huge... No regeneration, and presumably the replacement Doctor would have been a Richard Hurdall style imitator, doing his best to play the same old man as Hartnell for another season or two until the series got cancelled and become just another forgotten sci-fi classic of the 60's.
5) That time the Brigadier was played by a stuffy old cabinet minister
While we could spend all day talking about how the show would have been different, had one of the other actors considered for the part of the Doctor been given the job instead, I cant help but mention an actor named David Langton, who was originally chosen by director Douglas Camfield to play a one-off supporting character in one of Troughton's 5th season stories, but backed out prior to production so he could perform in a television play instead.
Luckily for us, that meant that the part had to go to another actor, and Nicholas Courtney found himself receiving a hasty promotion from Captain Knight to Colonel Letherbridge-Stewart, (narrowly avoiding his second on-screen death in Doctor Who) and a recurring role which would last the next 43 years. If Langton had not declined the part, we would have undoubtedly seen a very different take on the Brigadier. Langton was 17 years older than Courtney, had served in the British Army as a major, and was best known for playing very dry and formal cabinet ministers and members of the British peerage (most notably the character of Richard Bellamy on the series Upstairs, Downstairs.) At the time, he was also a far more recognizable actor, so it's questionable whether he would have been willing to commit to coming back for The Invasion or as a series regular during the Pertwee era.
6) That time The Doctor challenged the devil to a game of pinball
Charlie Jane mentions this one on her list of 10 Biggest Dodged Bullets in Doctor Who, but if you've never heard of the project, this was a proposed film co-written by Tom Baker and Ian Marter, which would have fit into the continuity of the ongoing series, starring Sarah Jane Smith and Harry Sullivan as companions, and Vincent Price as the intergalactic embodiment of evil known as Harry Scratch. (Admittedly, with a name like Harry Scratch, your only real job options are maniacal villain or mustachioed porn star.) It featured killer scarecrows, moth guns, the god Pan, a chase through the TARDIS involving 50 yard jigsaw puzzles and a grandfather clock bigger than Big Ben, business executives with light-up spheres for heads, and a final confrontation between The Doctor and the Devil on a giant pinball table, playing for the fate of the universe. You can read a full synopsis of the plot here, and I highly recommend you do, if only so you feel a little bit of sympathy for all those Doctor Who directors who had to put up with Tom's frequent suggestions for how their shooting scripts might be "improved."