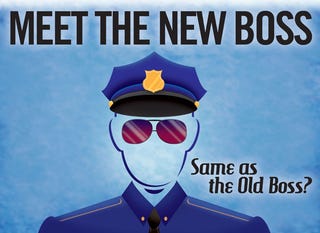 This is a quick post about the visual changes to the O-Deck mainpage and individual posts.
The O-Deck Mainpage

This is what the top of the O-Deck mainpage looks like now. There are 11 main things to look at.
#1 is your button. Clicking on it opens a drop-down menu wherein you can go to your personal page, where you can compose posts, where you can view your account settings, where you can log out, and where you can see your most recent notifications.
#2 is the Gawker Media organizer button. Clicking on it opens a drop-down menu with links to blogs you have writing privileges at, links to io9, the parent blog of O-Deck, links to some popular sub-blogs of io9, and links to the other members of the Gawker Media family.
#3 is the follow button. Clicking on it allows you to follow O-Deck, which then means you can place O-Deck content onto your personal page.
#4 is the search. You know what search does. Don't give me that.
#5 is a link that allows you to compose posts. There's one of these hiding under #1 right now.
#6 is the title of the blog or sub-blog you are on.
#7 lists posts on the blog or sub-blog which have had a lot of recent clicks.
The next four are unique to a particular post on a blog or sub-blog.
#8 is the author of the post.
#9 is how many Recommends that post has
#10 is how many comments that post has
#11 is the title of that post.

Clicking #9 allows you to Recommend a post. Clicking #10 allows you to comment on that post without reading it (if you're new at the Internet, this is a great idea.
Edited to add: Buttons #1-7 are all things that do not scroll as you scroll down the page; they stay in the same place. That's fairly handy and with the next shot we'll see how that results in a loss of function with Kinja 1.2.

Let's see how the new mainpage compares.



A and B cover the former functionality of #1. A is what #1 was, except for recent notifications. B is just recent notifications.
#2+3 is, as the label suggests, a fusion of what buttons #2 and #3 used to do.
#4 is the same, just moved.
#6 is the title of the blog or sub-blog to the right and a small icon for the author of the blog or sub-blog to the left.
#7 still lists popular posts.
#8-#11 are all the same, just moved.
Edited to add: Please note that, now, only A, B, and #7 stay in the same place as you scroll down the page. This results in a loss of function from Kinja 1.1, as you can not (currently) use the Search or Blog Change functions without scrolling back up to them.


Now let's look at an individual post.
An O-Deck Post
This is a post, with comment threads numbered below #1-#6.
Let's look at a new-style individual post.
The numbers are the starts of the comment threads labeled. ...note that they don't actually function correctly at the moment. But don't worry, there is a work-around (that hopefully won't be needed for very long)
How to make comment threads re-appear
Note: there might be more than one way to do this, this is just what I find works for me right now.
EDITED a few hours later: this workaround is not necessary as of 7pm mountain time on Thursday the 13th. That's very cool.
EDITED a few minutes later: okay actually this workaround is still necessary to view ALL of the comments on ALL of the comment threads. Stay tuned for more details?
Step 1: Click on the timestamp of a comment, any comment.
Step 2: Click this handy 'back to main thread' button.
Step 3: These thread divides now show up, actually showing where comment threads begin and end.