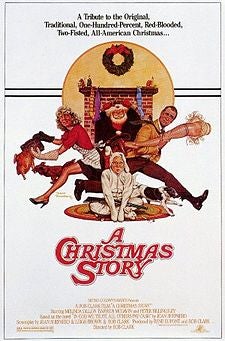 Every decade or so, a movie is released that tells a story that embodies the spirit of Christmas. Sometimes a desperate man learns the true value of his life or cynical adults learn to believe again. This movie is not one of those stories. This is a story of triple dog dares and Italian lamps. A story of pink bunny suits and busted furnaces. Mostly, it is the story of a little boy named Ralphie and his desire for a Red Ryder BB gun with a compass in the stock. It is simply A Christmas Story.
Released in 1983, A Christmas Story was based off the book In God We Trust, All Others Pay Cash by Jean Shepherd. Shepherd was also the narrator for the movie. Ralphie was played by Peter Billingsley, his father was played by Darren McGavin and his mother was played by Melinda Dillon. For some geek cred perspective, Billingsley was the executive producer and played a small part in Iron Man, McGavin starred in Kolchak: The Night Stalker and Dillon was in Close Encounters of the Third Kind.
A Christmas Story was not initially a great success but it has achieved a place in the lexicon of holiday classics. Many people can probably relate to a more realistic portrayal of the Christmas season. For those that live in America, you can catch this film on TBS more or less anytime during the last three weeks of December. In 2012, A Christmas Story was selected for preservation in the National Film Registry. But you know none of that matters. Stats time!
Amazon.com has 1668 reviews for A Christmas Story. The film currently has an average rating of 4.6 stars. There are 86 1-star reviews with 39 of these being for technical issues since Amazon is apparently a terrible company. That leaves 47 people who did not enjoy this movie. Well, maybe 45.
LIKE IT
ALWAYS LIKE THIS MOVIE. I HAD IT ON VHS SO NOW ITS TIME TO UP GRADE TO DVD. I PLAYED THE VHS OUT. LOVE THIS MOVIE EVERYTIME. I HIGHLY RECOMMEND THIS CLASSIC
This is one of two people who apparently don't understand the way the reviewing system on Amazon works. If you love the movie, give it four or even five stars, not one. This isn't golf.
Zero Stars
This is the worst christmas movie of all time. It has no redeeming quality as a movie. If you haven't seen it, don's! Save yourself. I wish I was not forced to sit and watch it MULTIPLE times. This movie has cringe worthy scenes we are supposed to laugh at but just made me feel embarrased for the actors. I would give it negative stars if it were possible.
Who is forcing you to sit and watch this movie if you hate it? Are you in danger? Blink once for no, twice for yes. If I was going to torture you by making you watch really bad Christmas movies here is what my list would be:
5. Ernest Saves Christmas
4. Jingle All The Way
3. How The Grinch Stole Christmas (the Jim Carrey one)
2. Santa Buddies
1. Christmas Vacation 2: Cousin Eddie's Island Adventure
You would be broken by New Year's Eve.
I GIVE IT ONE STAR BECAUSE ZERO IS AN OPTION
Why would anyone waste their time with this horrible piece of trash. Its bad enough the movie is for some reason on way to many channels, but come on 48 straight hours. Save your money and buy a real movie. Even UHF is better than this piece of crap!
UHF? Really? I love Weird Al, but that might be the craziest movie comparison I have ever read.
A Christmas story
The story develops very slowly. It got boring after a while. I even like Jingle All Way The Way better.
Okay, I take back what I said. This is the craziest movie comparison I have ever read. You enjoyed a movie that features the acting talents of Arnold Schwarzenegger and Jake Lloyd better? Stay put. I'm sending someone now to take you to the sanatorium.
Not even child friendly
This movie is the opposite of a heart warming Christmas story, I was totally disappointed in it and got rid of it as soon as we got done watching it. I would give it a -10 if I could.
I have been seeing this a lot in these reviews. If you didn't enjoy the movie, try returning it. If that fails, donate it to a library or a charity. Stop throwing perfectly good things in the trash! That's how we get to the timeline that Wall-E lives in!
ABSOLUTE CRAP! Go Jamie!
I agree whole-heartedly with Jamie. This movie is an overrated piece of crap. First of all, calling this trash funny is apalling. Children being beaten up 'til they're bleeding is heartlessly cruel. Swearing is NOT funny, despite reports of the contrary. I feel awful everytime I see that kid stick his tounge to the pole. It is sick whenever someone says this is a classic. If you recieve this as a christmas gift, kindly throw it in the garbage. It will save you and your whole family from vomitting.
First of all, if someone gives you a gift and you throw it in the garbage, you are a terrible person. Second, why would you throw a perfectly good movie in the garbage? Donate it. And who is Jamie? I read through all 86 of these miserable 1-Star reviews and didn't see any from Jamie.
A Christmas Story,
I have to agree whole heartedly with Jamie. This is the worst Christmas Movie I have seen. The profanity ruins it. It's a 1940's film with 1990's movie profanity. If you have children under the age of 10, you need to be aware. The father is mean. The are two prolonged scenes where a bully makes another boy put his tongue on a metal pole and another where Ralphie fights with him. And to top it off the Santa and his elves are mean. There is not an uplifting feeling throughout this movie....
Another fan of Jamie? Weird. I haven't watched the non-television version of this movie in a few years, but I don't remember a lot of profanity. Feel free to correct me, but wasn't most of the profanity implied? Even in the scene where Ralphie spills all the lug nuts, he says Fudge. We all know what he really says, but he doesn't actually say it.
YOU POKE OUT YOUR EYE, KID!!
I would rather have my eye poked out than watching a movie about a whinning kid who wants a BB gun for christmas for god knows why, maybe shooting the kid who put his tongue on a frozen flagpole on a dare.
At least get the quote right. "You'll shoot your eye out."
Not for kids says this mom.
With respect to those who adore this movie and speaking as a mom who picked it for little kids - I was very disappointed. If you're looking for a change for the little ones - try Tim Allen's "The Santa Clause". While I can see the point of the reviewer from Chicago - I think there are better choices FOR KIDS than this one - so don't get taken in by the big blue eyes. It's not a kids' movie. It's not just "the F word" - which doesn't get spoken (then I had to exlain why "fudge" was a bad word in this case...). But not only is that scene bad enough, it is followed by the mom washing out Ralph's mouth and his ratting on his friend and then Mom calls the friend's mom.... it was not fun to dance around with my 6.5yr old who kept asking what Ralph really said. Fine - children will get exposed to all the horrible things in this movie in the reality of life - but c'mon - in a Christmas movie?? From an ADULT stand point - it was a nice movie, but not one I'd put on the list with It's a Wonderful Life. Beating up the bully and horrible visits to Santa don't bring the Christmas spirit to my heart.
You had to explain implied profanity to a 6 year old? Why? Just tell them that he said "Freak" or "Frack". Or don't tell them anything. They are six, you are an adult. You might also want to consider watching PG movies yourself before you let a 6 year old watch. Parental Guidance, that's what PG stands for!
The Most Non Christmas Spirit Movie Ever
Christmas is about celebrating the birth of the savior of the world Jesus Christ. Christmas movies should be inspirational. This movie is sad and depressing, and I would never watch it again, nor would I suggest anyone else watch it.
Does anybody want to guess what state this reviewer lives in? Maybe someday the story of the birth of Jesus will get the attention that it deserves. It's a pretty under utilized story, kind of like the origin of Superman.
Not a children's movie
I saw part of this movie while I was at my chiropractor's, and I couldn't believe my ears. In shock, I asked the receptionist what swearing was doing in a children's movie. She shrugged and said, "It's pretty mild swearing, isn't it?" I've heard some oxymorons in my life (ex. military intelligence), but that one took the cake!
If you can get past the variety of black and blue words, then there's the "lamp" which the boy refers to as "electric sex." Again - in a children's movie?
I'm just glad I never intentionally set aside time to waste on this movie. It's a cute enough idea; I even enjoyed the "narration" feel of having an adult male do voice-overs of thoughts and memories as if the story is told in retrospect. But it's not a movie I would ever want in my home, let alone have my children watch elsewhere!
Let me get this straight. You were at your chiropractor and saw part of this movie. You didn't like the part that you saw, so you went home and reviewed it on Amazon? Is that even allowed? Well, I guess it is. I also don't think "mild swearing" qualifies as an oxymoron. Polite swearing would be.
Terrible!
Gross! So much swearing and vile behavior! I can't believe this is rated PG. It was so highly recommended by MN Public Radio, et al. My wife and I shut it off when it was half through and threw it into the garbage.
Minnesota Public Radio disappoints another listener! Wait! You threw it in the garbage, too? Is anybody even listening to me?
awful
I was astonished at how bad this was after so many friends recommended it. It's yet another example of a completely secular, materialist Christmas "story", and I found the enthusiastic greed of the main character, a little boy, repulsive. Yecchh.
Can you believe the greed of little children? Who do they think they are wishing and hoping for Christmas presents? They should probably spend the holidays focusing on the religious traditions of the holiday such as giving and receiving gifts.
The Most Irritating Movie Ever!
I don't get why people like this movie. It's irritating and depressing. I feel sad that there are so many people that identify with this being what Christmas is like. The store Santa is a drunken criminal, and I can't imagine why he would keep his job. Kid's just don't drool and have as much snot as this movie depicts. If this is what the 50's was like, no wonder we're all on anti-depressants.
I have kids and, let me tell you, the snot levels are off the charts in the winter time!
Very disappointing holiday film
I just watched "A Christmas Story" and was very disturbed by it. It takes place in the 1940s (I think), but it is not at all like "Miracle on 34th Street", which was made in the 1940s. There is a lot of violence in this film (hitting, beating, slapping) and worst of all, profanity. The boy in the movie has a fantasy of getting an air rifle and killing crooks. In this age of gun violence, this is the last thing that kids or adults need to see. I would not recommend this movie to anyone. And if this movie is about Christmas, I certainly couldn't tell.
You do understand that there is a difference between a movie that was made in the 1940's and a movie that was made in the 1980's, but set in the 1940's, right? Never mind. Here's your winner:
Annoying, loud, obnoxious worthless bilge
All of the characters in this worthless piece of garbage yell all the time, both adults and children. They are all apparently whacked out on some substance. I'd love to know what it is so I stay very clear of it. Then there is the cloying, annoying narration/voice-over that makes the whole thing even worse, if that's possible. I can hear the characters yelling at each other in the family room, two rooms away from where I'm writing this, where my dear spouse is enjoying the movie. More power to her. My childhood was nothing like this movie, and could not be parodied or satirized as this movie tries to do. There is NOTHING appealing about this movie and I strongly recommend you watch a blank screen instead.
It was hard to pick a winner this week. The lack of random capitalization made it difficult to decide who was the angriest. I chose this reviewer because they clearly don't care about the dangers of hearing loss. If you can still hear the movie two rooms away, you should recommend that your spouse turn it down. Anyways, here's your prize: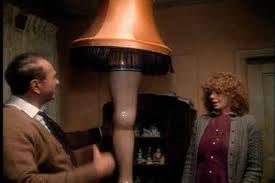 It's a major award!