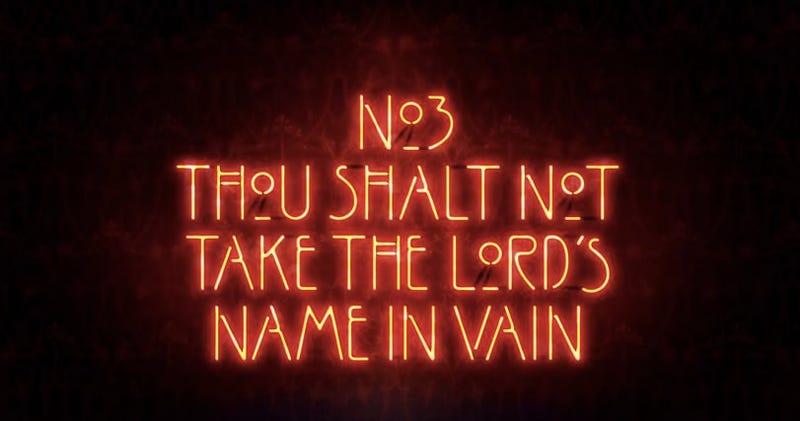 Welcome to the American Horror Story: Hotel live viewing discussion thread. Step inside and join us as we watch episode 5 titled Room Service. Tell us what'd you'd like to order up in the comments.
The house rules are as follows:
Don't be a dumbass.

Really, try not to be a dumbass.

Try harder not to be a dumbass, dumbass.

Break rules 1 thru 3. Often.

Wear as much eyeliner as you can possibly fit on your face.

Don't you dare out goth Gaga. Get out.

Smile when being shot in the head like you're getting your picture taken.

There's a reason Vampire stories have so many homoerotic themes.

NO PITY PARTIES IN THE BAR!!!!
If the house rules are broken, you know what will happen!
Share your real-time viewing thoughts down below in the comments, I'll chime in during commercial breaks.

In other words, there will be SPOILERS in them comments down there.
If you have a link to your personal manifesto about this episode then drop it in the comments and I'll add to this post proper.
Kinja Is Talking, Talking About AHS
Cheryl From io9 Asks, Is There Enough Room For All These Vamps?
Julianne Muses....well nothing as of yet. Probably because people are acting ridiculous about H&M's new limited edition threads.
Deathmaster780 Cuts Deep Into The Episode, Going For The Jugular And Offers You a Sip:
Dr. Awful and the Vampire Children

We start things off with Dr. Alex not handling her new vampirism all too well as she goes to the hospital to check up on the kid with the measles, steals some blood, and takes some of her own blood and gives it to the measles kid which causes him to shake around a bunch and apparently gets cured.

Measles kid then proceeds to munch on....continue