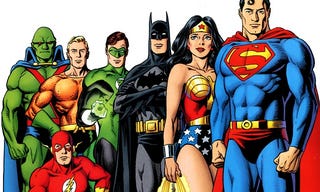 As I previously mentioned in the Golden Age crossovers article, DC Comics did not start as one company, like Marvel. Instead, they started as three: National Allied Publications, Detective Comics, Inc, and All-American Publications. But those weren't the only companies that merged into DC and contributed to the mass of heroes in the DC Universe.
National Allied Publications / Detective Comics, Inc.
Starting at the beginning, there was National Allied Publications, who published New Comics which became Adventure Comics. However, when National's publisher wanted to make a new book, Detective Comics, they found they had cash flow problems and needed another investor. And thus Detective Comics, Inc. was born.
Detective Comics, Inc. published Detective Comics and Action Comics and as soon as Superman hit the shelves, they found the golden formula and the other books followed. Detective Comics introduced Batman, while Adventure Comics introduced the Sandman, Starman, Hourman, and Joe Simon and Jack Kirby's Manhunter.
But money problems still persisted for National Allied Publications and soon the publisher, Malcolm Wheeler-Nicholson, left and Detective Comics, Inc. bought it out and merged with it, creating National Comics.
All-American Publications
In 1938, Max Gaines partnered up with Harry Donenfield, CEO of National Allied Publications and Detective Comics, Inc, and created All-American Publications. And this company did end up lasting for most of the Golden Age, with Max Gaines selling to National Comics in 1946 (whereupon Donenfield merged all of his publications to created National Periodical Publications).
All-American Publications published All-American Comics, which introduced the Green Lantern, the Atom, Doctor Mid-Nite, and others; Flash Comics, which introduced the Flash, Hawkman, Johnny Thunder, and Black Canary; Sensation Comics, which introduced Wonder Woman; and All Star Comics, which teamed up heroes from both All-American Publications and National Comics into the Justice Society of America.
Fawcett Comics
Unfortunately for National, they couldn't continue to just buy out their rival companies: with Fawcett Comics, they had to sue them to stop them from publishing the incredibly popular adventures of Captain Marvel in Whiz Comics.
National Comics actually first sued Fox Comics due to a superhero named "Wonder Man" and then Fawcett Comics for a superhero named "Master Man." Both companies simply stopped publishing stories with those characters — but when Captain Marvel became a hit, Fawcett fought back in the courts and thus the court battle went on for twelve years. Finally, Fawcett decided to settle with National out of court and cease publications of their superhero comics (with sales of those comics already down). Eventually, DC licensed the characters in 1972 and bought them outright in 1980. These didn't just include Captain Marvel and the Marvel Family, but also Spy Smasher, Isis, and Bulletman and Bulletgirl.
Quality Comics
Quality Comics was another Golden Age publisher, one which dabbled in a lot more war comics like Blackhawk and G. I. Combat. They stopped publications in 1956 and sold all their properties to DC Comics, which continued publishing some of their war and romance books.
Over the years, DC Comics began to realize that they had bought a lot more than just the Blackhawks — they had also bought Plastic Man, Kid Eternity, the Ray, and Uncle Sam. Eventually, they had Uncle Sam form a team of unused Quality characters, the Freedom Fighters in a JLA/JSA team-in in 1973. These characters lived in Earth-X, where the Nazis won World War II.
In a weird twist, the copyright on the original Quality Comics stories was never renewed, so they are all in the public domain.
Charlton Comics
Now, Charlton Comics is a weird one. They started publishing late in the Golden Age — in fact, their first book, Yellowjacket, was published September 1944. Charlton's business model then became to buy up properties from comic companies who were going out of business — in fact, two of their biggest books, This House is Haunted and Strange Suspense Stories, came from Fawcett and the Blue Beetle, probably the biggest superhero from Charlton, was bought from Fox Comics.
But Charlton itself stayed on and in the '60s, they managed to create a stable of writers and artists (including Spider-Man co-creator Steve Ditko) that made new superheroes, including a new Blue Beetle, Captain Atom, the Question, Nightshade, the Peacemaker, and Peter Cannon, Thunderbolt.
Charlton cancelled their superhero comics by 1967, however, although the company limped along to 1985, where they finally sold off their stable of characters to DC Comics, who managed to introduce them in Crisis on Infinite Earths.
Milestone Comics
Milestone Comics was actually an imprint of DC Comics — a collaboration between DC and Milestone Media, created by a coalition of African-American writers and artists.
Although DC was the co-publisher, however, the stories did not take place in the DC Universe. Instead, they took place in what was dubbed the "Dakotaverse," named after the city most of the early Milestone comics were set in. The best known writer for Milestone was Dwayne McDuffie, who created Static along with Denys Cowan.
Milestone began in 1993 and the very next year there was a crossover with DC called "Worlds Collide." Unfortunately, by that time, comics themselves weren't doing so well and Milestone ended up stopping their comics altogether in 1997 and focusing instead on their very popular cartoon, Static Shock.
In 2008, DC announced that the Milestone universe would be merged with the main DC Universe. These include the characters Static, Icon, Hardware, Xombi, and the Blood Syndicate.
WildStorm
WildStorm was actually one of the founding studios of Image Comics, along with Extreme Studios, Highbrow Entertainment, ShadowLine, Skybound, Todd McFarlane Productions, and Top Cow. WildStorm, specifically, was the studio of Jim Lee and published Lee's own title, WildC.A.T.S. and other titles like Gen13.
In 1999, however, Lee sold WildStorm to DC Comics and it became a DC imprint. The WildStorm universe remained separate from the DC Universe, however, and it kept publishing comics about it's most popular characters, including Stormwatch, the Authority, and Gen13.

In fact, WildStorm ended up publishing quite a bit of creator-driven comics, including Planetary and Global Frequency by Warren Ellis and Sleeper by Ed Brubaker and Sean Phillips (who would go on to make other comics like Criminal and The Fade-Out). However, in 2008, the WildStorm universe suffered a crisis called "Worldstorm" that turned it post-apocalyptic. And, in 2010, DC shut down the WildStorm imprint and imported the popular characters over to their brand new, New 52 Universe.
The only other imprint that made an impact in DC Comics would be Vertigo Comics in the early '90s. However, most of the titles were created from existing DC properties (like Neil Gaiman's Sandman, Rachel Pollack's Doom Patrol, and Hellblazer, which originated in Saga of the Swamp Thing). After almost twenty years of Vertigo characters (like John Constantine and Swamp Thing) being restricted from the main DC Universe, however, they were reintroduced in the early 2010s.