On Friday's Grimm, an ill conceived con gets the attention of Nick, Hank and Wu when a mark turns up dead. Meanwhile, Juliette is still dealing with her reveal to Nick, and things are a changing for Adalind and the Royal Family in Portland. Spoilers after the break.
---
The case of the week starts off with a man at a bar, unsuccessfully trying to pick up women, until one comes in crying about how her husband just left her. After offering her a drink and shoulder to cry on, they end up at her place, and she tells him to wait there while she goes to into the bathroom to slip into something more seductive. Suddenly, her supposed soon to be ex-husband bursts in with a gun, claiming she lied about him leaving her and this must be the guy she's been cheating with. The man from the bar assures him that wasn't the story he was given and begs for his life, offering all $500+ of the cash he has on him, and mentioning that he has a wife and kids to get back to.
He runs out, scared for his life, only to find that he dropped his phone in all the commotion, and since those things are pricey and I can totally sympathize on that part, he goes back for it, only to see the woman leaving with a rolling suitcase. He threatens to call the cops if he doesn't get his money and phone back, which is when she woges and burns him with acid secreted from her skin.
---
The acid burn kills him, and someone discovers his corpse and calls the cops the next morning. After learning the type of acid that burned him is something normally excreted by some kind of animal, Nick and Hank correctly assume it must be some kind of wesen. After Sgt. Wu tracks the phone to the apartment/condo that was used, they find the phone, and some finger prints, which point to a Linus Balouzian, wanted for several counts of confidence scams around the country. His partner, Stacy doesn't seem to have a record.
---
After some trailer research, Nick learns the wesen they're after is a Huntha Lami Muuaji, a type that only has one woge, the kind everyone can see, and that always travels in pairs. Previous Grimms have mentioned that they've ever only encountered, and killed, the males but the female was never found. After Rosalee allows Monroe to go undercover as a single guy looking for a hookup, he ends up going with Stacy back to her place, where she makes him feel uncomfortable, and then tells him to wait while she freshens up.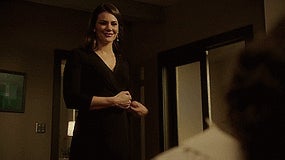 ---
Once again, Linus bursts in with the gun but Monroe manages to signal Nick and Hank, just as Linus realizes he only had $22 in his wallet. He manages to run out of the hotel and then we see him change into Stacy to elude Nick.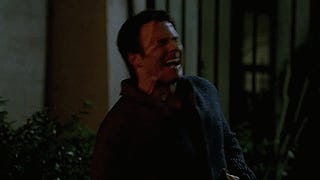 ---
And maybe spending time with Wu has rubbed off on him because after Hank and Monroe tell him Stacy isn't there, he actually realizes they must be the same wesen, one who is able to turn into either Stacy or Linus after a woge. In fact, they talk to each other as separate people, switching back and forth to do so. The main topic of conversation is how it's Stacy's fault the cops are after them, because she went out the front door but she wasn't expecting that mark to still be around.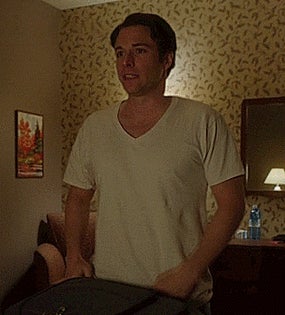 ---
Since only Linus has a police record, and prints linking him to the murder, Nick asks Rosalee if there's a way to force him to take the male form after the next woge. After objections from Monroe on forcing either gender on Linus/Stacy possibly permanently, they decide it's not something they want to do, but the only way to catch the killer and close the case, so Rosalee suggests a heavy injection of testosterone, so it's crossbow time.
After catching the wesen at a different bar, they shoot it during a woge and end up with Linus who is then arrested. After realizing he can't woge back and that Stacy seems to be gone, he's very distressed, and signs the confession. When asked if it's permanent, Nick says he doesn't know.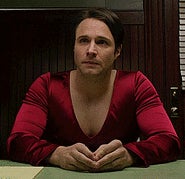 ---
The side stories in this episode basically revolve around Sean Renard and his family. He wakes up after having a nightmare about when he was shot at Nick's house, and he's covered in blood.
---
After going to the doctor to get checked up, he's given a clean bill of health. And since it's the doctor's office, he is of course asked to remove his shirt.
---
After the regular doctor can't help him, Sean visits Monroe and Rosalee (this is before Nick enlists their help), and gets the spell book that Adalind had used, and that his mother also later used. It's been closed back up, and only Hexenbiest blood can open it, but luckily he knows a recently made one who shows up at his house. After spending the night in her car, and ignoring calls from Nick who wants to talk things out, Juliette visits Sean and asks if she can crash on his couch while she figures things out. She also lies to him about having told Nick, saying she hasn't yet.
After telling her this request puts him in an awkward position, agian, Sean pours himself a drink, and mentions he could use her help with something, if she would be so kind as to cut her hand and bleed onto the book until it opens.
---
When Juliette asks why he can't do that since he's a "male Hexenbiest", he notes that he's a Zauberbiest, and only a half one at that, but people always make that mistake. The book is opened, and he thanks Juliette and also tells her that as a made Hexenbiest she's unique so she's just going to have to wing it.
While this is going on, Adalind has taken 3 pregnancy tests, just to be sure, which all confirm that what Henrietta told her was right and she is expecting. She quickly decides she needs to trick someone into thinking they're the father and is about to try and seduce Viktor only to hear someone telling him he's done in Portland and being sent back. Turns out it's the king, Sean's father, and he lets Adalind know that A) Viktor is out, and he's bringing someone else in, B) he regrets she was put in the dungeon but then again she betrayed them to the resistance, and C) his main priority is getting Diana back to her rightful place among the Royal Family.
Thoughts/notes:
The scam being run by Stacy and Linus isn't really a good one. They're counting on the mark to have a lot of cash on him, and these days, the $22 Monroe had on him is probably more likely than the $500 the first guy (who got killed) had. Or what if the mark ends up being armed too and they end up in a standoff? Or he doesn't have much cash and is also a blutbad? It just seemed overly complicated for what could be very little payoff.
I was thinking about this earlier in the week, and it doesn't make sense why the Royal Family is so intent on having Diana back with them. Based on what we've seen, it looks like because he's a bastard child with only 1/2 royal blood, Sean Renard is considered an outcast or at best a black sheep, and not a legitimate heir to his father the king, even though his father seems to like him well enough. If he was, he would have been put in charge after Eric's death, instead of his cousin Viktor, who is presumably the son of a sibling of the king and their legitimate spouse. So why is the bastard daughter of the king's bastard son so important? Wouldn't she be even less of a legitimate heir, since she only has 1/4 royal blood? Or is it because they've realized the benefit of a powerful Hexenbiest being raised as one of them, possibly after learning from the mistakes they made with Sean?
Based on what the show has told us, and also the Grimm Wiki, when it comes to witches and warlocks, Hexenbiest is the term for a female and Zauberbiest for a male. But it seems like only the women end up with magic powers and the ability to create potions, while the men just get a boost in strength when they woge, based on what we've seen of Sean Renard in woge-face action. My new question is does that mean Adalind's dad was a Zauberbiest, or is it possible for a human + hexen/zauberbiest to have a full hexenbiest or zauberbiest child, or would they always only be half?
Back to Stacy and Linus, as Monroe brings up, it feels wrong to force the wesen to permanently (as far as we know) take on either gender. Feel free to discuss that here, but you can also join an ongoing discussion started after the episode aired, on the O-Deck, here.
My take is Nick has been known to let wesen get away with murder if it was wesen on wesen, or one of the people involved was a friend of his, and no one else knew about it. But in this case, because there was a homicide called in, he had to make an arrest and close the case. As Wu learned before he was brought in, Nick and Hank have closed pretty much all of the weird cases they've had. Now, if this was just a con artist being caught, he probably would have let it go, with a warning to stay out of Portland, but since there was a murder involved, his options were narrowed down, and forcing the wesen to remain as Linus seemed the best way to get an arrest rather than just kill him, as other Grimm have done. This is the same opinion I posted in the other discussion so feel free to comment on it there, rather than here (I'm fine with it being discussed here but didn't want to take away from the other topic on it).
What did you all think?
Majority of the pictures and gifs used here were borrowed from the Grimm Wiki, which is also where I go to get the proper name of any new wesen.
And thanks to Katherine for the mainpaging.