Other stuff happened too, of course, but everyone's favorite canine of interest had been out of sight the last few episodes, so it was good to see him back . A lot of the episode felt like things were being setup for payoffs in future episodes this season, but that doesn't mean it wasn't fun to watch. The number of the week involves a grifter, and ends up involving Dominic and the brotherhood up against the Mexican mob over the new big drug, medical marijuana (I love that they titled the episode Blunt). And the other story involves Root developing an app. Spoilers, and gifs, after the break.
---
The number Finch gets is a little different this time around, instead of a social security number he gets a student ID number, which leads Reese to a woman of many names, one of which is Harper. She recently moved out from having a roommate to living on her own. Reese follows her, and after some awkwardness from being on the women's floor, sees her visit her stoner boyfriend and agree to take his shift, which turns out to be at a medical marijuana facility.
Reese goes in, as a detective with PTSD and some back pains.
---
Then the place has to close down for a money transfer. As Finch explains, because marijuana is still federally illegal, no bank wants anything to do with the money involved in the sales of it. So the dispensaries find safe locations and use hired security to transfer it. The security team gets ambushed by the Mexican mafia, which turns out bad for both sides because the security team is actually The Brotherhood, as Dominic is trying to get in on the legal marijuana game, providing security services and coming up with ways to make that sales money legit. His main idea is to use the money to purchase in-game currency and then sell it back for cash, using online gaming to launder the money.
Reese does his thing and shoots out some kneecaps on both sides and gets the money bag. Which turns out to be a fake because Harper switched it out and took off with the real one. It turns out she goes by several names and tipped off the Mexican mob on the transfer so she could take off with the real money in all the confusion. She only steals from criminals because they won't call the cops. Smart. Except the part where instead of calling the cops they decide to hunt her down and kill her.
This leads to Reese and Fusco eventually tracking her down, and getting her to a safe house, but her humorously stoned boyfriend/mark getting taken by Dominic. So Reese gets to do his thing and kick some ass.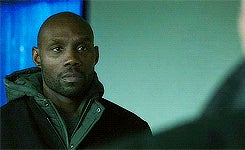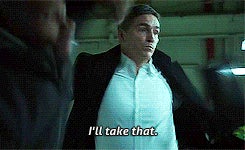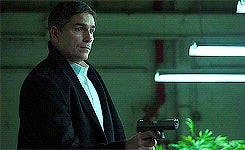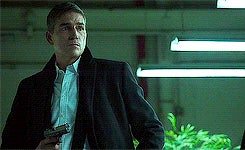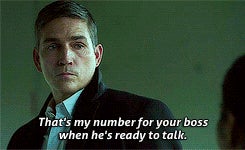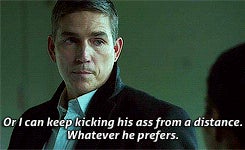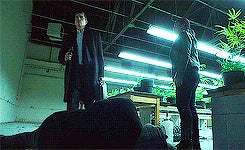 ---
Incidentally both Harper and Dominic are able to tell Reese isn't a real cop. When The Machine gave him that detective identity I thought it was the perfect cover, but apparently he carries himself differently and some people are able to pick up on it. But in Dominic's case, trying to pay him off to release the stoner was a big clue.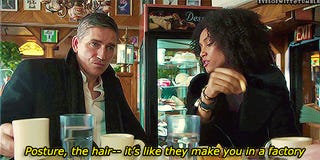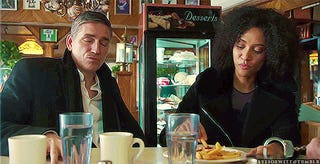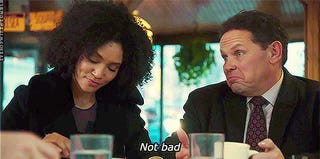 ---
Not bad indeed. Reese ends up in a face to face meeting with Dominic and tells him that he'll give him the same deal as Elias. If he stays out of his way, he won't keep interfering in his plans. And also, stop killing innocent people. Dominic is given a good deal: the money that was stolen, in exchange for the stoner dude, and not going after Harper. But Dominic gets greedy and calls in his men. Too bad for him Reese has backup too, and worse for him it's Fusco.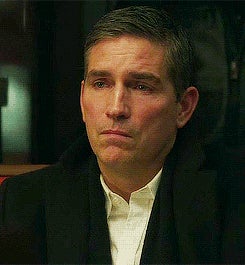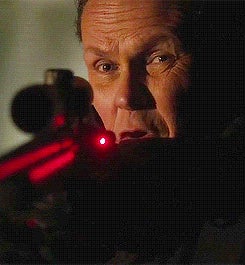 ---
Harper comes up with a plan to send the Mexican mafia after Dominic, so the cops can show up and arrest everyone. Except she also tipped off Dominic and he was prepared with paperwork for his security company, so his men are free to go. He thanks Harper with a job offer. She doesn't accept but also doesn't turn it down. After breaking up with the stoner boyfriend she was only using for access to the dispensary, she goes her own way. She was pretty good at coming up with multiple identities and staying hidden, without the help of an AI, so she could be helpful to either Team Machine or Dominic. I doubt we've seen the last of her. Especially since Finch turns out to be just as adept at sleight of hand as she is.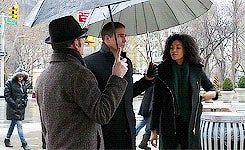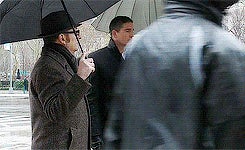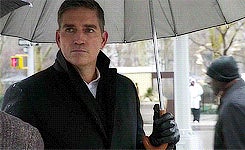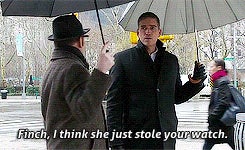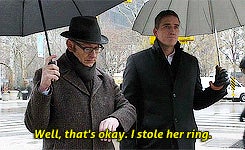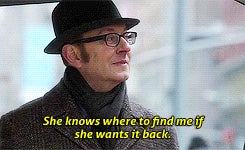 ---
Finch, you never cease to amaze. In the side story, which is definitely not over, Bear has been cooped up underground for too long.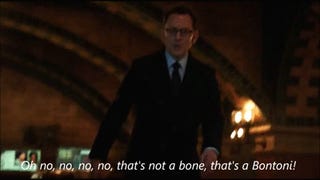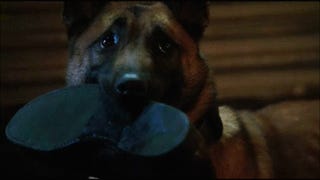 ---
Shortly after that, Root stops by for an interesting visit, to discuss recruiting more help in the fight against Samaritan, and to remind us that as far as they all know, Shaw is dead.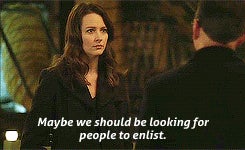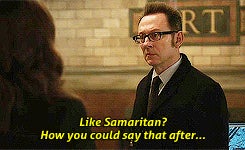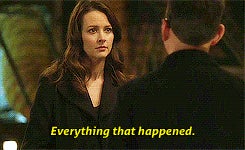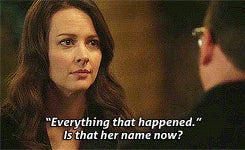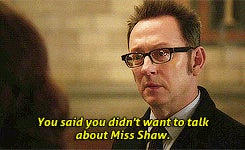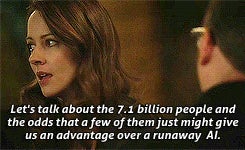 ---
Root mentions developing an app, and heads out. Finch tries to tail her, with help from an expert tracker who could probably do with some fresh air but she manages to lose him, for which he states his admiration.
---
At the end of the episode, it turns out the app itself may have just been a well coded means to an end as Root is offered a job working with a team at the company she presented the app too. And who should offer her the job, but Caleb Phipps, the programming high school genius last seen in season 2 when he was the number of the week and Finch became a substitute teacher t help him, in episode 2 Pi R. I didn't realize it was him until fellow O-Decker Balmut pointed it out (thanks by the way), but in my defense it was 2 seasons ago and he's cleaned up his look since then.
Highschool Caleb:
---
2 years later tech company CEO Caleb:
---
On a side note, she looks great in the glasses. How could you not hire her with that winning smile?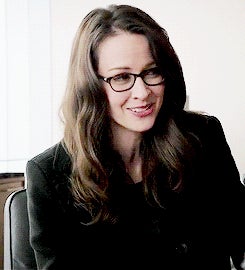 ---
So this episode sets us up for whatever Root is up to, which may or may not involve an app that she developed to get offered a job at some tech company, and could lead to her getting more recruits for Team Machine. It also introduces a character who is able to change identities almost as much as Root herself, but doing it old school, so she could be helpful staying out of sight from Samaritan's electric eye, and it reminds us that Dominic and the Brotherhood are out there, and looking to expand their empire and while they're at it, take out Elias. I look forward to seeing where this episode leads us.
What did you all think?
(Gifs courtesy of Tumblr: samsroot, lindi590, and moriorinvictusmaneo)
Update: thanks for mainpaging, Ria!