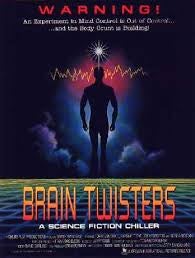 horrible.
"A scientist creating mind-control software for a major corporation utilizes his college students as guinea pigs in his tests. As the experiments progress, the test subjects seem normal at first but then begin to exhibit strange side-effects. These side-effects begin to drastically alter the psyches of the students that transform them into murderous psychopaths."
Recently I bought a Science Fiction box set and decided I would watch one movie a night. The above movie was the first on disc one and, for the life of me, I can't figure out who made this decision.
The movie starts out playing creepy music as you follow a car driving down a road during the day for what feels like forever. Then it cuts to 80's rock being listened to by a young woman jogging. Then you see the driver swerve towards her.
Now, this first death should prepare you for the bad that this movie is. As the only thing that even suggest that she was hit and killed was the camera cutting upwards only to see her walkman fly into the air and following it to the ground.
There are many bad writing decisions and some awful directing decisions in this movie. By far, the worst line is a scene between a detective and a witness. He decides to ask her if he could come over and cook for her, which she agrees to. He cooks a pasta dish that he says is "nothing but fresh clams, virgin olive oil, and tons of garlic."
She replies "Mmm, sounds simple." and takes a sip of wine.
He replies "Which one are you? The fresh clam or the virgin olive oil?"
She replies "Which do you think?"
He says "I think I need more evidence."
Surprisingly, this does not lead to sex, only dish washing.
Needless to say, the whole movie is this bad. If you like watching bad movies then I recommend it. Though the experiment could cause viewer have seizures if you are epilectic.
In short, I think who ever made this boxset should have started off on a stronger foot...