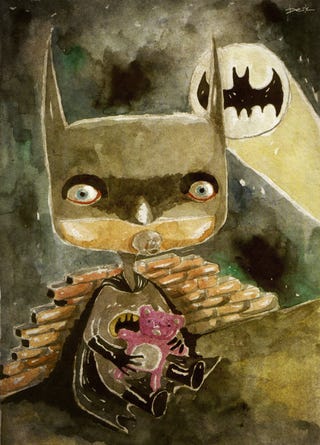 On the twitterverse we've been discussing the new origin story to do with Peter Pan coming out in October. We've seen villains become more reasonable people, sometimes even become sympathetic or the hero of the story. Frankly, I'm sick of it.

Rarely does Hollywood succeed in giving a compelling story that justifies showing the origin of the character. Boba Fett AND Darth Vader were better before the prequels. There are only so many times you can, in a movie, show Bruce Wayne's parents getting gunned down.
Clearly, what we need, is to make our own origin stories! So in the comments, tell us about the origin story that your favorite character deserves. To get us started, I have this gem from Nicole about how Peter Pan was created:
And what I think that the next take on the Batman origin story should look like:

What would you like to see?
(Also we have actual origin stories for Odeckers. You can find some here.)

Art by Berkozturk