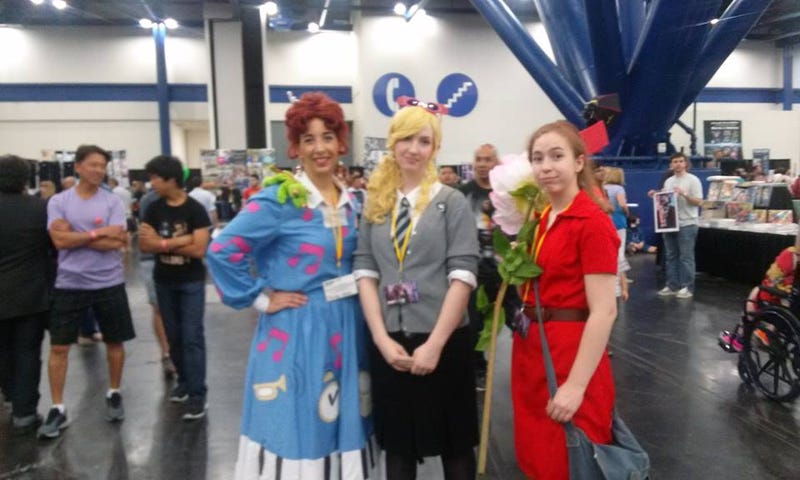 That was a pretty good con! The small panels weren't that great this year but the celebrity ones were amazing. Pictured above, my favorite cosplay group.
Friday
Nicholas Brendon! He is amazingly funny in person! Seen here, him slow dancing as he talks with the younger girl who asked him the first question of if he had a girlfriend. How have I not seen him in anything since Buffy (and a forgettable Pinata Island)?
There actually wasn't much of a crowd in the room. I got up to ask a question which I never do. Asked what Joss Whedon related properties he would like to be apart of. According to him Mal on Firefly was written with him in mind by Joss but didn't work out cause of Buffy going another season. He also apparently also audition for role of Deathlock/Mike Peterson on Agents of Shield.
Stan Lee
Stan the Man was charmingly funny as always. A lot of people were asking about how he got into comics and he gave a pretty funny story about getting a job at 17 as assistant editor at a comics magazine under Jack Kirby and someone else except they got fired and he got put in charge. He was ashamed of comics for awhile and wanted to go into the film industry.
He said he was creating a new latino super hero and that they were casting an actor but not sure if that means they will be in MCU or he just misspoke about that. Also mentioned them making Black Panther and Dr Strange movies.
A young girl asked his favorite female character to which he said was Mary Jane but his favorite hero one was She-Hulk.
Saturday
Saturday was show panels. Had Buffy and Agents of Shield. Buffy had Clare Kramer, George Herzberg, James Leary, James Marsters, and Nicholas Brendon. It was a really fun panel though nothing in particular to mention. It was the first time seeing Clare Kramer not playing a mean role and it was always nice to see someone you get sole bad impression of, is really nice and sweet in real life.
Agents of Shield had Brett Dalton, Clark Gregg, Elizabeth Henstridge, J. August Richards, Ming Na Wen, and Glenn Morshower. Poor Glenn Morshower didn't have much to do other say he wants his rib back so he can be in season 2.
A lot of the joking was about Ming Na Wen and Clark Gregg shipping "Philinda" and the how much Ming Na loved beating the crap out of Brett Dalton. Like Clare Kramer, I have only seen Ming Na play very serious characters so it is nice to see her be silly.
Elizabeth Henstridge had a moment where she seemed to be just like her character. When asked whether they would prefer to fight a horse sized chicken or 100 horses the size of chickens, her reaction was awwing at the thought of the tiny adorable creatures and wondering why anyone would want to hurt them.
There was a moment where it really seemed like the male cast were all going to remove their shirts, they were standing up undoing buttons, and I started to get my phone out to record but it didn't happen. Sorry O-Deckers who would like that sort of thing!
Sunday
We had Billy Dee Williams and J. August Richards. Billy Dee Williams was a very mellow speaker but still fun. There was a very awkward moment where one of the first questions, a guy mistook him for Carl Weathers and asked about him dying in Rocky and Predator. He did confirm voicing Lando in Rebels but maybe that was already confirmed anyways.
J. August Richards is probably one of my favorite actors now and was fun to watch. He is very much a nerd and talked about Alpha Flight being his favorite comic book. He talked about how much he loved music and gave us a demonstration of his happy dances he does which I am sad I did not film.
When asked about crossplay he was quick to answer he would be Storm and mentioned he would even be good playing her.
Monday
Monday was the last day of the con and so was slower. They still managed to have two big name celebrities, James Marsters and Rose McGowan. Rose McGowan was oddly moved ahead on the schedule and to a smaller room and then ended up being only 30 forgettable minutes long.
James Marsters is another of those actors who are fun to just go watch. His normal American accent will always be weird to me though. Most interesting thing to find was he writes for comics. He apparently had done a Spike and Dru comic a long time ago that Dark Horse used horrendous art for and ruined it. But he has another one coming out about Spike soon after he got his soul which sounded fun.
Other:
There was a free figure painting table put on by Reaper Minis. I spent maybe 5 hours this weekend painting two figures, talking to people, and meeting kick ass nerdy little girls and their dads. That might have been my favorite part of the con really. Plus the guy was nice and gave us a box full of paint! We tried to get one of every color. He had to to throw it out or give it away anyways. Look what I made!
To be fair, the light could have been better. Also I am a terrible painter. My harpy was missing wings when I got her. They are girlfriends and the harpy has blood of her enemies on her claws.
The dealers room was okay I guess? Lack of art of women kicking ass and not being sexualized makes me wish I had the ability to draw great art!
There was an area for Houston labs where you can go and learn welding, laser cutting, 3D printing, and tons of other stuff and they have all kinds of equipment you can use if you get a membership! Made me want to go learn engineering.
There was also a ton of Doctor Who stuff but I didn't go to any of it!
We tried out Citadels which turned out to be a really fun board game! Bought it for my brother's birthday.
Cosplay
My roommate, Ohka15 on here, cosplayed Spoiler a couple of days so lots of pictures of her.
My brother as Hugo Strange.
*Note: Cap is the losa (loser) cause I posted the gif first!