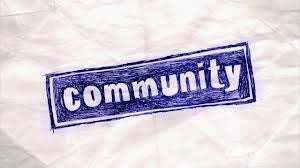 Let me start off by saying "psyche!" Because I don't mean like that Community, I mean like *this* community. Or any other on the web. Even when you take asocial misanthropic introverts, we're a pretty sociable species. But creating one isn't a process with a recipe—it's a blend of a lot of things, and also hinges on "right time, right place" more than many projects a person, team, or company turns its mind to.
If you were going to sit two people down and ask one "What three things did you do right in creating a community as successful as this?" and the other "What is the biggest thing you did wrong when you tried and failed to establish or sustain your online community?" who would you ask? And...to be simplest, let's leave Denton out of it, just because.
I'd be surprised if anyone here lists the O-Deck as their only online community, but I'm ridiculously biased when it comes to internet socialising—I am in the position of being highly Twitter/Facebook allergic, but resolute in my defense that community isn't dependent on the medium or technology that enables it, but it can be killed or boosted by the wrong or right technical decision nonetheless. People like to congregate. They like to seek affirmation, have conversations, start fights, win battles, make friends, lose themselves. And we can do it in thousands of ways. And fail in many more.
So who do you think has done a good job, whether it's a hosting place for many communities (like Facebook or Tumblr) that define themselves, or something like a TWOP which cultivates topic-specific congregations of people, or a TheOneRing.net that springs up to support a specific topic and becomes self-sustaining or profitable.
I've seen community creators who swear that if you give them a URL and some seed users they can create a profitable venture that sustains itself and lines their pockets. They aren't usually running a community I enjoy, but motives differ.
So...who does it well? Badly? What would you make sure to do or not do? And how does your profit motivation come into play?