We've reached the penultimate episode of Season 2. Wendimoor continues to fall into chaos, as Queen Suzie faces down our heroes. A sibling slap fight (last the episode) helped to clear the air, but Amanda and Todd, will need to dig deeper if they hope to overcome their differences and save Dirk.
He saved them last episode, so it's only fair.
Meanwhile, the Mage enacts his plan, one that threatens both our world and Wendimoor. It's Farah and Tina though, who may be in the most immediate peril. They're alone with the Mage at the Kellum quarry.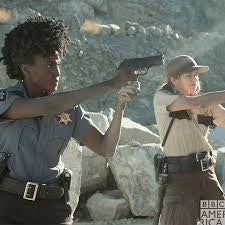 If only Bart were around to help... especially now that she has a chainsaw. Ho, Ho, Ho.
Looks like Mr. Priest is going to have a very bad day. Ken's position at Black Wing may also be in jeopardy.

Are you ready for tonight's episode?
Do you think any of the team are in danger of buying the farm?
Bonus: Another episode and another installment from Vogel's (Osric) Vlog.