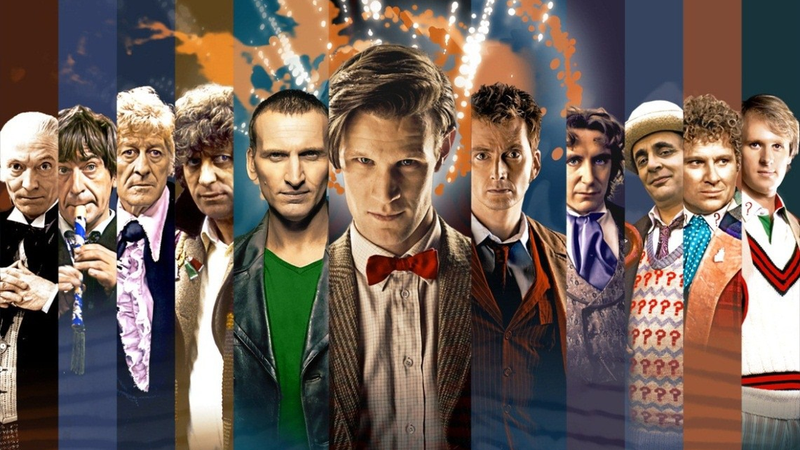 The time has come - The BBC are getting ready to reveal the new face of The Doctor. Whether you're watching along via BBC One or BBC America, or just frantically hammering the refresh button on a bunch of news sites, you can also follow me as I liveblog my way through Doctor Who Live: The Next Doctor!
Join me via the magic of CoveritLive at 6.45pm BST (that's 1.45pm EDT, or 10.45 Pacific), 15 minutes before the show kicks off, to have a natter about all things Who, and who you might think be playing the Twelfth Doctor.
The show itself begins at 7pm BST, and is being simulcast on BBCA America in the US, SPACE in Canada, and ABC1 in Australia. The show is currently slotted into the BBC One schedule as being 35 minutes long.
Go here to catch the CoveritLive archive.
UPDATE: And that's that! Thank you for joining me on the liveblog, even with a bit of a technical hitch with this infernal embedded box. I'll keep adding updates and publicity images as the night goes on, but for now: Peter Capaldi IS The Doctor. What do we think? Like? Dislike? Let us know in the comments below.
UPDATE 2: Here's the very first official picture of Peter Capaldi as The Doctor, photographed by Rankin earlier today:
UPDATE 3: The official news is rolling now - BBC, Radio Times, Sky... oh hell, you'll find out plenty of sources. It's everywhere!
For those who are all a bit 'Wait, what?' - Glaswegian Peter Capaldi (who, at 55, is the joint-oldest actor to play The Doctor, matching William Hartnell, who was 55 when approached by the production team back in 1963) is a storied actor that is known for roles both on and off camera: from his début in Local Hero back in 1983, to hits like Channel 4's Psychos, to even the Angel Islington in Neil Gaiman's original TV series Neverwhere. But he is perhaps most famous for his role as the extravagantly foul mouthed parliamentary communications officer Malcolm Tucker in Armando Ianucci's fantastic political comedy The Thick of It, as well as returning to the role for the show's Movie adaptation, In the Loop. Capaldi is also known for his role as a director - his directorial début for Franz Kafka's It's a Wonderful Life in 1995 earned him an Oscar for best short film, later added to with a BAFTA for Male Performance in a Comedy Role in 2010, as well as two British Comedy Awards in 2010 and 2012.
His first post-Doctor role will be as Cardinal Richelieu in BBC One's new adaptation of The Three Musketeers, due to air early 2014. He received the call confirming him as The Twelfth Doctor whilst filming the drama in Prague.
Capaldi is no stranger to Doctor Who either - a life long fan, even having had a letter printed in the Radio Times when he was 15 expressing much love for their coverage of Doctor Who's 10th anniversary - having featured as the Roman marble seller Lucius Caecilius Iucundus (students of the Cambridge Latin course will know that character all too well) in The Fires of Pompeii, as well as the Government aide John Frobisher in Torchwood's excellent third series, Children of Earth.
UPDATE 4: And for those of you who want to relive the magic again, here's the moment Peter was revealed to the world, as well as his first interview:
And at least Peter is used to the newfound publicity that being The Doctor brings - Here's a picture of him wading into the audience moments after the live show ended, via @SusannaLazarus:
UPDATE 5: The BBC have released the tiniest of clips, with Peter himself saying hello. There's a delightful chill to him saying 'and I'm the new Doctor!':
And here's a few press-pack quotes from the bods at the BBC. First, Jenna Coleman, Capaldi's first companion:
I'm so excited Peter Capaldi is the man taking on the challenge of becoming the Twelfth Doctor. With Steven's writing and his talent I know we'll be making an amazing show with an incredible incarnation of number 12. I can't wait to start this new adventure!
Steven Moffat:
It's an incendiary combination: one of the most talented actors of his generation is about to play the best part on television. Peter Capaldi is in the TARDIS!
Charlotte Moore, Controller of BBC One:
Peter Capaldi has all the genius and versatility needed to take on the mantel of the great Time Lord and make the role his own. He'll bring his own particular wisdom, charisma and wit to the Twelfth Doctor and take the show into an exciting new era.
Ben Stephenson, BBC Controller for Drama Commissioning:
We started thinking Peter Capaldi might be the right person to take on this iconic part a few months ago. But it was only when he did a secret audition at Steven's house under the cover of darkness that we knew we had our man. He's an extraordinarily talented actor who can seemingly turn his hand to anything. We can't wait to premiere his unique take on the Doctor on Christmas Day and we are sure he's going to become one of the all-time classic Doctors.
And of course, Peter Capaldi himself:
Being asked to play The Doctor is an amazing privilege. Like the Doctor himself I find myself in a state of utter terror and delight. I can't wait to get started.
UPDATE 6: As if Peter's fan-background wasn't verified enough, only 30 seconds into his reveal and he'd already pulled off a Hartnellian Lapel-tug (via @Claytonhickman):
UPDATE 7: And what a way to cap off the rolling updates as the UK slips into Monday - speaking to SFX 5 years ago, Peter recalls sending a letter to the dear Barry Letts, producer of Doctor Who in the 70's... a letter that in turn inspired him to work in TV:
I was thrilled to have delivered to me a large package from the BBC containing two full studio scripts for the Jon Pertwee serial 'The Mutants', which they were making at the time.

The package also contained set designs and studio floor plans for these episodes and a delightful letter from Barry Letts giving me an idea what all this stuff was.

It was a fantastic exciting insight into both Doctor Who and television production generally. I had never seen a script in any form whatsoever before then and was immediately fascinated by the documents. And of course Barry's kindness was a trigger to my ambition to work somehow (I didn't know how) in TV. The scripts are still sitting on my bookshelf downstairs.