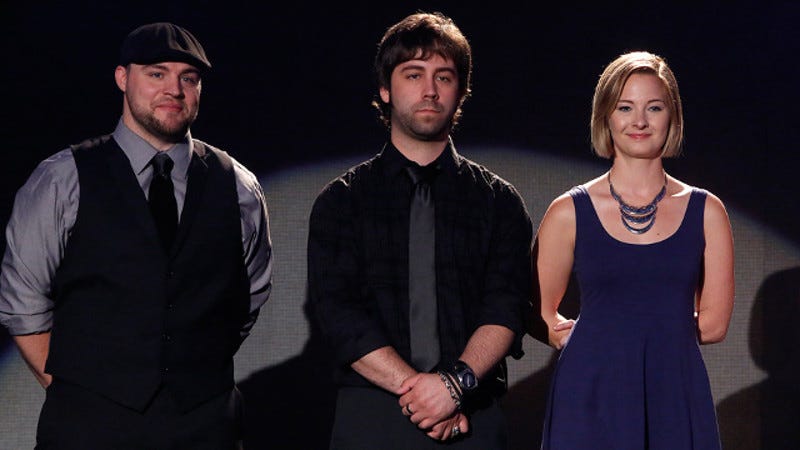 It was just last October when Face Off had its last season finale. Since Syfy seems committed to cranking out two seasons a year of the show Season 8 kicked off last night with a bit of a twist.
Spoilers if you haven't watched the episode yet.
This season the contestants are divided into three teams with each team coached by a former Face Off winner - Season 2 winner Rayce Bird, Season 4 winner Anthony Kosar or Season 5 winner Laura Tyler (Team Laura all the way!).
The initial Foundation Challenge is an on-the-spot audition where the coaches will choose their teams after inspecting the contestants' work. The coaches are joined by judge Ve Neill (one contestant wins line of the night by referring to Ve as the "Aretha Franklin of make-up") who chooses Darla's ballerina as the challenge winner. So Darla is immune from elimination in the first Spotlight Challenge.
Not surprisingly the Spotlight Challenge is a team effort. Legendary make-up artist Rick Baker introduces the challenge, a straightforward alien theme. Each team of five must make two creatures based on the mysterious crash site the team has chosen. Between some initial words from Rick Baker, the coaches' guidance and Michael Westmore's visit the contestants get a lot of advice on the first day.
That's a lot to pack into an hour so the episode ends at the start of day 2 of work when McKenzie Westmore throws a twist into the mix. The alien ships didn't didn't crash on Earth but on a planet of primates. Each team must choose a primate on display in the workshop and create a third creature based on it. I will be massively disappointed if no one makes a Planet of the Apes reference next week.
I need to see how this champions thing works out through the season. Right now each team has the same number of members so the the contestants can compete as teams. But the rest of the challenges can't be based on any assumption of equal teams. Are the rest going to be all individual challenges or will there by ad hoc pairings with contestants from different teams working together on creatures?
Syfy has redesigned their site and you can see galleries of this week's Foundation Challenge designs, past works of the champions and previous seasons here.