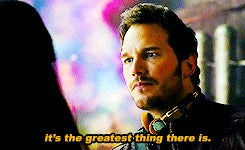 Why thank you Mr. Quill. I'm glad to see my work is appreciated even in far away galaxies full of races Marvel still has the cinemtatic rights to.
Did you know that Joseph Gordan Levitt was considered for the role of Peter Quill?
During the production of GOTG, several actors were considered for the role before Chris Pratt, including Joseph Gordan Levitt. Let's see what I Am Wiki says
In September 2012, Gunn confirmed that he had signed on to direct the film and rewrite the script.[102] By the end of November, Joel Edgerton, Jack Huston, Jim Sturgess, and Eddie Redmayne signed deals to test for the role of Peter Quill, as did Lee Pace,[103] which he confirmed a week later in early December.[43] Other actors who were considered for the role included Thor: The Dark World‍ '​s Zachary Levi,[104] Joseph Gordon-Levitt,[105] and Michael Rosenbaum.[106] Chris Pratt was cast in the role in February 2013, as part of a multi-film deal that he signed with Marvel.[11][107]
The only reference in this bit that i'm intertested in is 105, an article from Deadline.com.
EXCLUSIVE: The derby to land the lead role of Starlord Peter Quill in

Guardians Of The Galaxy has gotten even more interesting. Marvel Studios has added Joseph Gordon-Levitt to the list of actors they are considering for what is seen as its next major franchise launch.

Deadline reported that Marvel had made test deals with Zero Dark Thirty's Joel Edgerton,Boardwalk Empire's Jack Huston, Cloud Atlas' Jim Sturgess, Lee Pace (who has roles in both Lincoln and The Hobbit), and Eddie Redmayne from Les Miserables. More recently, Zachary Levi was identified as a candidate.

I'm not sure if Gordon-Levitt has been offered the role and nobody would comment, but he's in the mix. He is just coming out of the superhero movie The Dark Knight Rises, which left him in an intriguing position as Chris Nolan's film trilogy concluded.
Accoreding to MoviePilot.com Joseph did a screen test but ultimately turned down the role to be in the Sin City sequal.
It is impressive to see how far the wacky guy from Third Rock From The Sun has come over the years. That said, this is not a what if casting scenerio I ponder about. Chris Pratt owns that role, and I just can't see Joseph's acting style working for that kind of character. Still, as with all of these types of facts, it is fun to think about how different the movie might have been if someone else was in the iconic roles we all know and love. So ponder that, and while I do, I will see you on the next Fact Of The Day.
Fact Of The Day is the daily column where RobGronkowski'sPartyBusDriver shares some random tidbit of science fiction, fantasy or horror knowledge. If there is a show or movie you would like to see done, leave a note in the comments below. You can see the full archive of past columns here.
---
Sources:
Wikipedia
105. Fleming Jr., Mike (January 2, 2013). "Joseph Gordon-Levitt Joins 'Guardians of the Galaxy' Race". Deadline.com.Archived from the original on January 2, 2013. RetrievedJanuary 2, 2013.