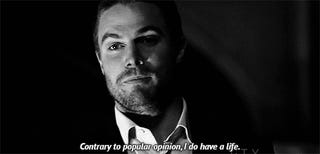 I mean it's not like I spend ALL my time on Kinja....just more of it than is probably healthy.
---
Did you know that Stephen Amell is a fan of the Toronto Blue Jays and campaigned for 3B Josh Donaldson to get into the All Star game?
I LOVE baseball. My team is the Red Sox but lets be honest, they suck balls this year. GOOD JOB THERE CHERINGTON! DON'T SPEND MONEY FOR THE BEST PITCHER THE TEAM HAS HAD IN YEARS, JUST LET HJIM GO TO THE CUBS AND OVER PAY FOR A FAT THIRD BASEMAN!!...sorry about that.
Anyway, I love my team and so does Arrow's Stephen Amell. Stephen is a fan of the local Toronto teams, like the NHL team Toronto Maple Leafs. He has a sense of humor, often suggesting on Twitter that his followers turn off the hockey game and watch Arrow instead.
He is also a fan of the Toronto Blue Jays. In June of this year he campaigned for third baseman to make it to the All Star Game.
The Toronto-born Arrow star posted a video message Tuesday
recorded inside his trailer on the set of Teenage Mutant Ninja Turtles 2 in New York City.

"The Kansas City Royals have eight players starting in the All Star Game, which is preposterous," Amell said. "Josh Donaldson, by any measure whatsoever, should be starting in the All Star Game."

In its first 24 hours online, Amell's video was viewed more than 715,000 times.

As of Tuesday, Donaldson had just under 4.9 million votes.
Josh is having a great year, batting .297 with 39 home runs and 120 RBI, helping bring Toronto surge in the standings to currently sit on top of the American League East with a 2.5 game on the vile and nasty New York Yankees. We hates the Yankees! We hates them precious!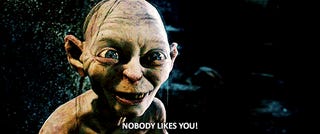 Josh did end up starting for the AL in the All Star Game and Stephen got to meet him.
He even did some batting practice and hit a home run.
Anyway, congrats to Stephen Amell for Arrow, for his role in the new TMNT movie and for his team possibly making the post season for the first time in 29 years. I will root for them as long as they knock out New York. I will see you all on the next Fact Of The Day.
Fact Of The Day is the daily column where RobGronkowski'sPartyBusDriver shares some random tidbit of science fiction, fantasy or horror knowledge. If there is a show or movie you would like to see done, leave a note in the comments below. You can see the full archive of past columns here.
EDIT: It turns out Toronto does NOT have an NFL team, the Mapel Leafs are in fact an NHL team. Correction made. That said, some of those Maple Leaf guys could probably make good money shoring up Indianapolis's shit offensive line.