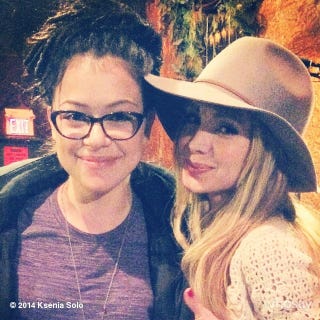 If you hadn't heard or maybe you have Ksenia Solo has been very busy since Lost Girl (still up in the air if she is appearing in the final season at all). First she joined AMC's revolutionary drama Turn. And most recently it was announced she joined Orphan Black as Shay a best friend for Cosima!!! I can't think of a better clone for her to cozy up to except for maybe Sarah. While I am so happy at this news it sort of makes the case for her not appearing on the final season of Lost Girl which starts this Saturday in Canada.
Also I cannot wait for Orphan Black to come back, at the link they have a ton of a new guest stars coming up and it is exciting.
Photo courtesy of Ksenia Solo's Whosay account.