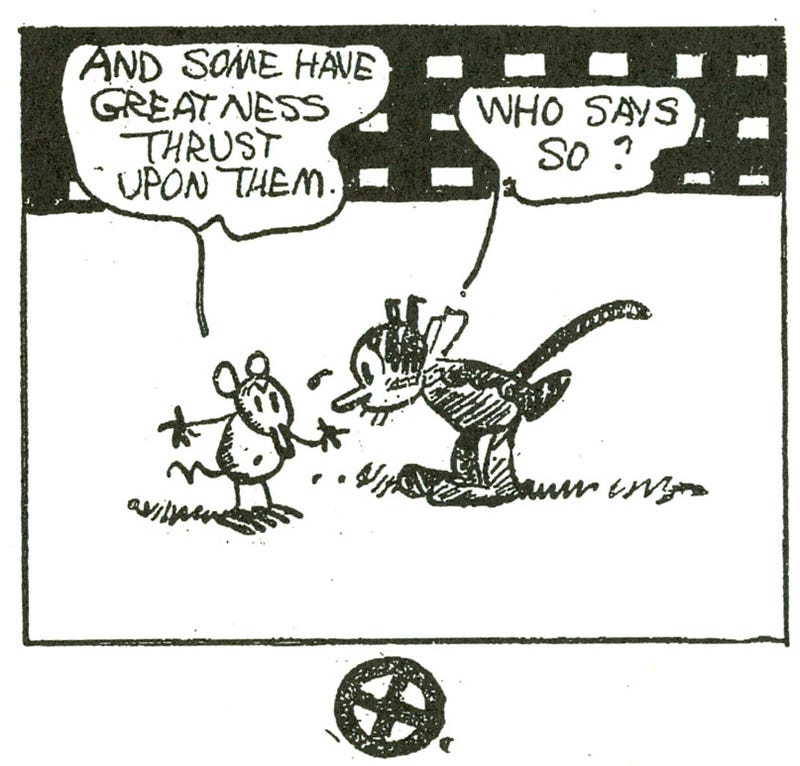 What's an Ignatz? Ignatz is a mouse. But an Ignatz is also an award, the brainchild of SPX & Ed Brubaker, an Eisner Award for independent small press comics. And this year, every single Ignatz Award went to a female creator.
According to Sequential Statement, ladies have swept the annual Ignatz Awards at the 2015 Small Press Expo. 600+ entries were narrowed down to five titles per category. Sophie Goldstein took home both the book awards for The Oven and Sophia Foster-Dimino took home three awards for her series Sex Fantasy. Here are this year's winners:
Outstanding Artist: Emily Carroll Through the Woods

Outstanding Anthology or Collection: Eleanor Davis How To Be Happy
Outstanding Graphic Novel: Sophie Goldstein The Oven
Outstanding Story: Jillian Tamaki "Sex Coven" from Frontier #7
Promising New Talent: Sophia Foster-Dimino Sphincter, Sex Fantasy
Outstanding Series: Sophia Foster-Dimino Sex Fantasy
Outstanding Comic: Sophie Goldstein The Oven
Outstanding Minicomic: Sophia Foster-Dimino Sex Fantasy #4
Outstanding Online Comic: Lilli Carré The Bloody Footprint
Congratulations to all the winners and nominees this year. Coincidentally, women also took home a "huge percentage" of this year's Einser Awards. Ladies, the system is no longer standing in your way to make it to the top in comics. Unless you're a part of the Marvel Cinematic Universe. Then you get replaced by Captain America. But everywhere else, Ewige Blumenkraft!