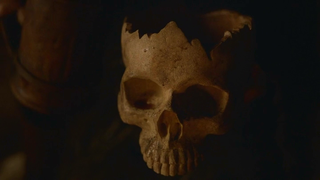 This is a point so minor it doesn't even constitute a spoiler, although for some reason it pissed me off, hard. Maybe because it was one glaring cock-up in an otherwise compelling episode. Above you see the skull one of the characters was drinking out of.
Here is an actual human skull:
YOU CAN'T DRINK OUT OF A GODDAMN SKULL THAT WAY BECAUSE THE EYEHOLES AREN'T ALL FILLED IN LIKE THAT ON A REAL SKULL, THE OPTIC NERVES NEED SOMEPLACE TO GO!
Thank you for your attention to this exceedingly insignificant matter.