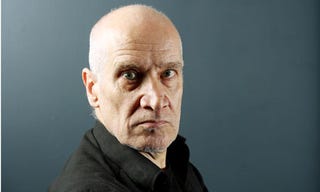 Considering today bought some sad news in the shape of the death of Bob Hoskins, its nice to be reminded that sometimes, a persons prognosis can also take a surprising turn towards the positive.
Wilko Johnson, probably best known in the nerdy fraternity as Ser Ilyn Payne in Game of Thrones, has announced he is now receiving treatment for the pancreatic cancer that had previously been considered untreatable:
"A friend of mine - who is both a photographer and a cancer doctor - became curious as to why I wasn't dead. And why I wasn't even sick,"
It turns out he has a very rare (less than 5%) type of pancreatic tumour called a neuroendocrine tumour. He has now had this tumour removed and has cancelled his (extended) tour dates to receive further treatmment.