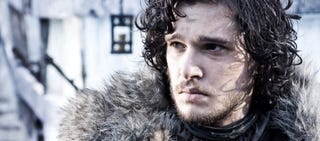 Holy crap! Pretty much everything we predicted would happen did happen. But then more stuff happened!!
Sansa did not use the corkscrew on anybody. She cleverly used it as a lockpick. But she left it behind! Poor planning.

Sam himself made the wise decision to get the hell out of Dodge and become a maester. Smart guy, that Sam.
Selyse hangs herself, Stannis's army deserts (as well they should), and Mel peaces out. Then Brienne gets sweet revenge. I cheered. That's what you get for being an asshole, Stannis!
Trant's assassination went by way quick. And how did Arya learn face magic before going blind?

Jaime comes out to Myrcella, and she's totally accepting of his lifestyle choices. My roommate got a little worried that they'd start making out, but then she dies, Poison Ivy-style.

Ellaria DID have a pendant just like Tyene's. I totally called it a few weeks back.
Varys and Tyrion, PoliSci Bros!
Our road trip buddies for next season: Jorah and Daario

Uncle Benjen gets mentioned, and for a moment there was a glimmer of hope, but it's a trap!
The stabbing of Jon was way more brutal than in the book were he just got a poke in the back. Et tu, Olly?! At my house we were screaming Olly's name the whole time.
Good thing Mel got there quick. That look she gave. It wasn't about Stannis, though. It was more that she was in disbelief that she backed the wrong Azor Ahai.
Since Davos is back and now a free agent, I still hold out hope of seeing a merman (Wyman Manderly) on the show.

Wow, I did not expect to see all of Lena Heady. Just her ass maybe, but nope. Everything. And no merkin either. Game of Thrones > True Blood
Speaking of full-frontal, I think this is only the 2nd time we've seen a non-fake-Hodor wiener on this show. South Park is totally wrong about GoT.
I want the Chant of Shame for my new ringtone.

Robert Strong!!!!
Myrcella Baratheon-Lannister RIP
Selyse Baratheon RIP
Stannis Baratheon RIP
Myranda RIP

Ser Meryn Trant RIPieces
Old Dude Wearing a Bunch of Faces RIP
Jon Snow RIP?
Body Count: 6/7 Is this a new GoT record?