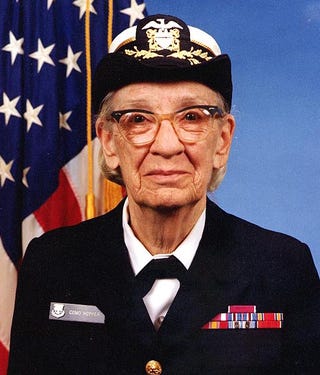 So I work at Coleman University, a technical college that's celebrating its 50th anniversary this year. Its founder, Dr. Coleman Furr, still walks the halls after all this time and will stop to chat with you about various founders of the tech community.
Chief among those is "Amazing" Grace Hopper, the computer scientist that brought the world COBOL.
Now, I'm just a humble graphic designer, so don't expect me to wax galactic about programming languages, but I will say that Dr. Furr's stories of Grace Hopper are amazing and hilarious.
As a woman in the extremely male-dominated computer programming industry and an officer inthe U.S. Navy of the 1950s, Grace Hopper had to fight tooth and nail to be taken seriously by her peers. Without her, though, we wouldn't have the term 'debugging', as it was she who coined the term after her associates removed a moth from the Mark II computer in 1947.
Aside from her brilliant understanding of computers and the languages they spoke, Grace Hopper was a hard-nosed, all-or-nothing go-getter. She managed to make her way into the Navy despite not meeting minimum weight requirements for service, and though she was retired several times, the Navy continually asked her to return for vital programming tasks throughout the years, eventually rewarding her with the rank of Rear Admiral.
One of my favorite stores that Dr. Furr tells is of Grace Hopper cursing like a drunken sailor and smoking a cigar while working on COBOL. He asked her why she cursed and smoked and she told him, "It's the only way these guys'll take me seriously," and then threw back a glass of scotch.