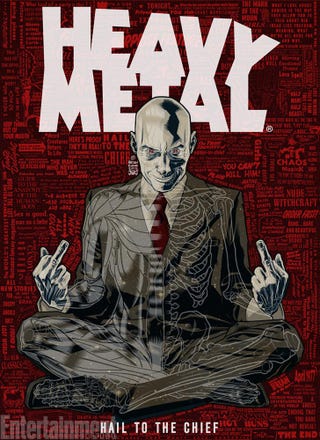 Morrison is the new editor-in-chief of Heavy Metal Magazine and he has plans.
Psychedelic cosmic comic soul explorer Grant Morrison's run as the new boss starts next year, according to EW. In the words of the previous editor, Kevin Eastman, "I gave it thumbs up, thumbs up, thumbs up, thumbs up. He is going to blow some minds and expand some others." In other news, apparently Kevin Eastman has been the editor of Heavy Metal for the last twenty years.
"We're trying to bring back some of that '70s punk energy of Heavy Metal, but update it and make it new again," says Morrison. "One of the things I like to do in my job is revamp properties and really get into the aesthetic of something, dig into the roots of what makes it work, then tinker with the engine and play around with it. So for me, it's an aesthetic thing first and foremost. Beyond that, just the idea of being able to curate stories, decide the direction of the magazine, and work with great talent and develop new talent is an exciting opportunity."
Oh, but that's just the tip of the iceberg. In addition to changing the shape of the magazine, Heavy Metal has launched a record label and is orchestrating TV shows including a Peter Panzerfaust adaptation starring Elijah Wood (??!!) and the crime gourmand Image title Chew. And movies, a series of live-action movies leading to a Heavy Metal movie which in turn creates more movie series and more Heavy Metal convergence movies.
Lord knows there are more failed Heavy Metal movies than there are made ones, so a record label with nothing forthcoming and vague movie plans aren't the most exciting announcements in the world, but taking on Morrison is a huge step in the right direction. But yeah Heavy Metal wants to reinvent itself as a multi-platform media source? I'm cool with that.