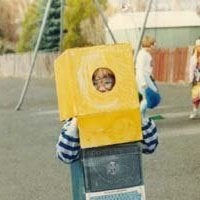 This is fourth grade. I was a computer/robot.
When we went trick or treating, my mother got tired of putting the costume on and off of me, so she put me on the hood of the car and drove very slowly from house to house, rolling me off at each stop.
It is one of my favorite Halloween memories.
Also when our Grange put on the annual Haunted House and did the "Feel the Spooky Body Part Game", they used real entrails. Lots of extra cow parts and frozen rattlesnake carcasses. Doesn't that just explain a lot about me?
Do you have a favorite Halloween memory?