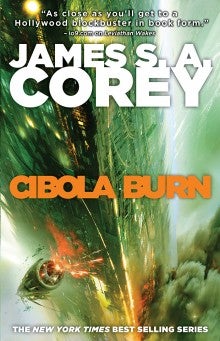 Because I really don't want to have to wait until after work to pick up a dead tree version of Cibola Burn. Even if that would give me the opportunity to go out and support a favorite local book store I haven't been to in a while, I'm not sure I've got that much patience left. I've never felt the need to get my hands on a book as quickly as humanly possible like I have with this series, so now I just want to know:
Will I get anywhere by jumping into the Kindle Store right at midnight, or should I just hit my alarm in the morning and immediately start it downloading while I'm in the shower? Is something like this going to pay attention to my time zone or Amazon's or something else?
Update: So, Goodreads, and the one of the author's blogs, you say the book is supposed to be out on the 5th? Well, I think my colleague here has something to say about that.
But now I'm first on my beloved local bookstore's hold list to get it when it actually comes out on the 17th.