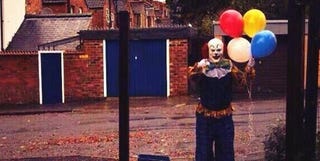 All of our Niners in the U.K., don't go to Northampton! And if you're already there, don't go outside! Just find a way to live your life indoors or start tunneling to safety.
He just walks around, apparently. It's reported that he knocked on someone's door and offered to paint some things around the house, despite not having any painting equipment with him.
According to the Spot Northampton's Clown page on Facebook, he just wants to be noticed. He's not trying to scare anyone.
Allow me to present him with my skeptical face.