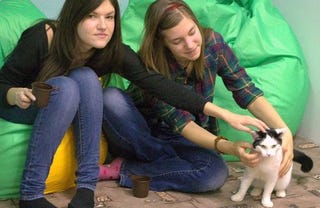 The Kis-Kis Cafe in Krasnoyarsk, Russia charges a couple of pennies a minute for customers to pet a cat.
According to the BBC article:
The cafe takes stray cats from the local Khvostiki (Tails) shelter and seeks good homes for them, so some customers could end up with a furry takeaway. One customer says she can't keep a cat at home and expects to visit the cafe frequently to "cut the stress of urban living".