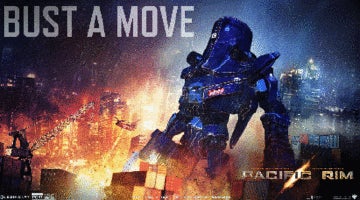 IT WAS MADE OF AWESOME. I WILL NEVER DOUBT THE ODECK AGAIN.
The movie made absolutely zero sense. I mean, hell, LESS than zero sense. There are plot holes big enough to hurl a broken kaiju through and yet it was obscenely entertaining. I mean, it has NO business being that much damn fun considering how little sense it made and yet it was one of the most awesome things I've seen ever. I feel like a childhood spent watching Gundam Wing and Neo Genesis Evangeleon prepared me for that film.
My favorite characters were Newt and Hermann. Science bros! I could watch them for days. They were so funny. I was cackling with glee and clapping like a brain damaged seal whenever they were bickering on screen. And then Hellboy showed up and I just about lost my shit.
I'm surprised that these jaeger teams were built up as awesome badasses and then they all DIED. I was looking forward to learning more about the incredibly badass Russian team and then, boom, dead. What the shit. I was so disappointed by that.
But overall it was a shockingly EXCELLENT movie and I'm gonna buy a copy and watch it over and over again. Once the credits started to roll I stared at the screen, bewildered, and said "welp, I have to go buy action figures now".
Are they gonna do a sequel? I need a sequel more than I need oxygen. It must contain Newt and Hermann though.