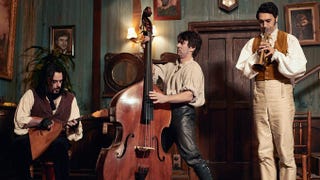 I have been having quite lot of issues with depression and anxiety lately and this movie (The Things We Do In The Shadows) was everything I needed and more. I honestly cannot remember having laughed so hard in my life. When I turned it off I had a goofy grin on my face and just thought how much I needed it. I also just finished Vikings and almost all my shows are ending for the season.
Lately probably because of my depression/anxiety/ADD I've been having an impossible time getting into things I used to love books/games/ a lot of things. I really some good escapism to keep me interested or laughing my ass off until my meds start kicking in. I wouldn't bother recommending TV shows we tried that on Jez and I've seen a LOT even most of the British ones and the ones I don't watch people suggested I've at least given a good try.
Help me guys! Also if you haven't seen The Things We Do In The Shadows even if you have vampire fatigue you should watch it it's HIGH-larious and I almost never laugh out loud watching stuff alone.