The Telegraph's Mandrake - aka news columnist Tim Walker - has supposedly revealed that the 35 year old has formally been offered the role by the BBC.
The paper's reveal - which was originally hinted at in the rumour that implied an announcement could be revealed yesterday - comes at a time as several book keepers, including William Hill and Paddy Power, have stopped taking bets on Matt Smith's Time Lord successor. This could possibly lend credence to the Telegraph's rumour, but as of now, nothing has been officially confirmed or denied by the BBC, so take this with a massive grain of salt. Even if true, the Telegraph are only reporting that an offer has been extended rather than a full on acceptance of the role, so the offer could still be declined by Kinnear himself.
Kinnear is primarily known for his Shakespearean stage roles, including several awards won for roles in the National Theatre's productions of Hamlet and Almeida Theatre's Measure for Measure in 2010. Kinnear also won a Laurence Olivier award in 2007 for his role in the National Theatre's modernisation of the Etherege Restoration Comedy The Man of Mode. Outside of the theatre, he's had several television roles, including critical acclaim for his portrayal of Denis Thatcher in the 2008 BBC drama The Long Walk to Finchley, as well as an appearance as Prime Minister Michael Callow (where he did some... distasteful things with a Pig) in the very first episode of Charlie Brooker's Black Mirror in 2011.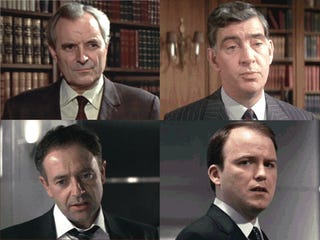 Kinnear is perhaps most recognisable outside of the UK as the latest actor to play Bill Tanner, M's aide and Chief of Staff in the James Bond films. He's appeared in the past two Daniel Craig films, Quantum of Solace and Skyfall.
I'll update this post if the BBC confirm or deny the rumoured offer.