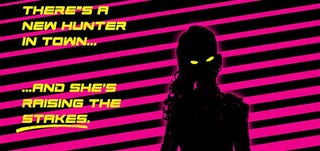 For the past eleven years, Tim Seeley has been writing a horror comic called Hack/Slash about a former horror survivor/teenage girl, Cassie, who hunts down monsters with her partner Vlad. And now, Seeley will be writing another book about a teenage girl teaming up with someone to fight monsters: Blade.
This is slightly different from previous Blade books because the teenager that Blade is teaming up with his, apparently, his own teenage daughter, Fallon Grey. This is a completely new character Seeley and artist Logan Faeber have created, but it looks like she may have inherited some things from her father.
On CBR's interview, Seeley reveals some plot details:
My goal was to avoid vampires altogether, so we're moving Blade away from fighting yet another clan of vampires or Deacon Frost or anyone with tribal tattoos. Blade is going up against an enclave of monster biologists called Black Genus, and it's going to get really horrific and really fun really quick up in here.

We really wanted this book to have a strong female voice to balance out and also clash with the six and a half feet of testosterone and rage that is Blade, so this story and Fallon in particular are very much a collaboration between Katie Kubert and I. I think we've got something that combines the feel of Marvel Horror, with a punk/goth version of "Ms. Marvel" or "Batgirl."
Well, that sounds pretty awesome. Check out the CBR interview for more and some cool images of Blade and Fallon.