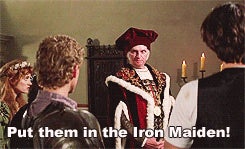 Continuing the look at Heavy Metal bands who are probably also geeks.
Possibly the geekiest of (70s/80s) metal bands is Iron Maiden. Over the decades they've written songs based on TV shows, books, poems, even folklore and mythology. Incidentally, most "research" done involves looking at Wikipedia.


TV Shows & Movies
The Prisoner - not only did they write a song about the series, they even requested permission from the creator to include a clip at the beginning. From Number of the Beast.

They also did a sequel song Back in the Village

Their song The Fugitive is based on the TV series (not the movie)

Children of the Damned, based on the movie of the same name which was a sequel to Village of the Damned.

The Wicker Man (the original, not the Nic Cage movie)

But they weren't just fans of TV, they also apparently did a lot of reading. I'll just stick to a few examples here since they have a lot of songs based on books.

Phantom of the Opera - more of a straight horror story with little fantasy elements but included because it's a great song

Murders in the Rue Morgue - based on the short story by Edgar Allan Poe (which is recognized as the first detective story)
To Tame a Land is a heavy metal summary of the novel Dune.

Brave New World

Poems, folklore and mythology
Rime of the Ancient Mariner - metal version of the poem with actual lines from the poem included

The concept album Seventh Son of a Seventh Son is based on the folklore concept, but the idea to use that folklore was inspired by the Orson Scott Card novel Seventh Son. Here is the title song, and The Prophecy

And they've also got a song about Icarus from Greek mythology

And of course, they also wrote a few songs based on actual historical events and figures.
The Trooper is based on the poem The Charge of the Light Brigade about the Battle of Balaclava 1854, which took place during the Crimean War.

They also wrote a song telling the story of Alexander the Great

They also have an instrumental inspired by Genghis Khan

Next week: Black Sabbath (with Ozzy) and Ozzy's solo band.