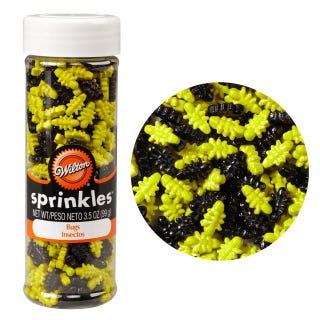 Or rather, is okay to buy these this year and use them next year?
So earlier I was saying how this book that I bought (and don't really need) explains how to make desserts with eyes by sending you to a specialty cake making shop, and I was saying how a lot people probably did not have such a place to go to, and even if they did the candy eyes probably cost a lot of money. Turns out they cost like $4 an ounce, if you can find them.
So I was going to Michaels anyway, and I might as well look.
Well, I didn't find any, but they did have these bugs, and also some pumpkins.
And they were on sale. So they are normally (if we can use that word for seasonal stuff) $4, but they were marked down to fifty cents. And I love a sale, so I bought both.
Okay, so it's such a tiny thing. And it's not like it's chocolate or anything. It's not really going to go bad, right? I can use these next year, right?