Is anyone else interested in that live Sound of Music monstrosity that's happening tonight? I plan on making it into a drinking game, because I don't have to go to work until 11:30 tomorrow :D :D :D
Do you think they'll go full camp? I am weirdly excited about this.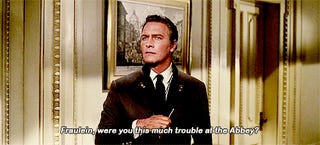 ---
HELLS YEAH I WAS THIS MUCH TROUBLE AT THE ABBEY.
Anyway.. comments!
I want to watch this Reverse Tarzan movie.
DrillPress and I discuss the best way to appreciate abs.
I'm just going to leave this here, context-free:
"em-I-es-es-i-es-es-i-little-pee-pee-i" - Fauxcased
You're all naughty.
Who wins today?