Pitchblende! For giving me my own celestial mustache :)
Happy Monday, everyone!
I'm making reasonable progress on my Once Upon a Time viewing. Netflix only paused to ask me whether I was still alive only twice! Anyway, they just introduced Robin Hood. Yaaaaaaay! I lurves Robin Hood, so much so that I argue that Kevin Costner's Prince of Thieves is the best modern Robin Hood. COME AT ME BRO. His movie had Alan Rickman as Nottingham, your arguments are invalid, etc. etc.
---
And that Guy of Gisborne... and Christian Slater...
Right! Comments! That was a fun tangent.
I'm not entirely sure what happened here, but please check it out. It's a thing of beauty.
This interaction between Pitchblende and me is delightful. We always need more super-powered mustaches! Plus Pitchblende made me this: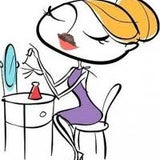 Did I miss any fun ones? I had to stop looking after a while.
OH. Tomorrow's Gold Stars are cancelled as I shall be downtown frolicking with Chris Hadfield :)