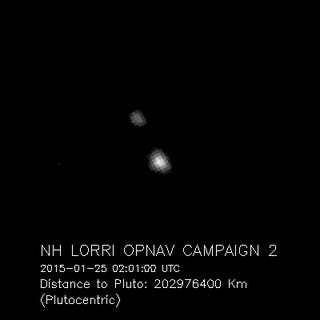 Astronomers on the Twitterverse are currently a flutter and discussing the problem going on with New Horizons. It's understandable to be concerned as the fly-by for Pluto is about to happen in ten days. So what, exactly, is going on?
I'll allow NASA to answer that:
New Horizons Team Responds to Spacecraft Anomaly

The New Horizons spacecraft experienced an anomaly the afternoon of July 4 that led to a loss of communication with Earth. Communication has since been reestablished and the spacecraft is healthy.

The mission operations center at the Johns Hopkins University Applied Physics Laboratory, Laurel, Maryland, lost contact with the unmanned spacecraft — now 10 days from arrival at Pluto — at 1:54 p.m. EDT, and regained communications with New Horizons at 3:15 p.m. EDT, through NASA's Deep Space Network.

During that time the autonomous autopilot on board the spacecraft recognized a problem and – as it's programmed to do in such a situation - switched from the main to the backup computer. The autopilot placed the spacecraft in "safe mode," and commanded the backup computer to reinitiate communication with Earth. New Horizons then began to transmit telemetry to help engineers diagnose the problem.

A New Horizons Anomaly Review Board (ARB) was convened at 4 p.m. EDT to gather information on the problem and initiate a recovery plan. The team is now working to return New Horizons to its original flight plan. Due to the 9-hour, round trip communication delay that results from operating a spacecraft almost 3 billion miles (4.9 billion kilometers) from Earth, full recovery is expected to take from one to several days; New Horizons will be temporarily unable to collect science data during that time.

Status updates will be issued as new information is available.
You can look for more updates at NASA. But what does this mean? Emily Lakdawalla (of the planetary society) wrote a post about it. She does give a good idea of what is good news and what could be bad. But she gives hope:

Safe modes are scary and annoying but not uncommon and not, at this moment, anything that New Horizons fans should be freaking out about. I'll willingly admit that I freaked out, just a little bit, when I first heard this news; but I have confidence that the team will handle it and will return the mission to normal operations with no serious loss to science.

Here is hoping everything goes well!

Art from NASA