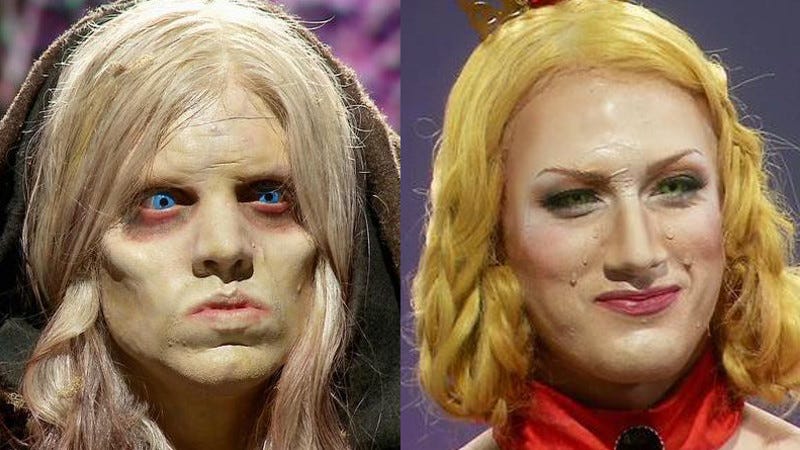 (Apologies to Neil Diamond.) This week's episode of Face Off offers something a little different. The ten remaining contestants must transform male models into female Shakespearean characters. Who will have a tempest of a time and who achieves a midsummer's night dream victory? Spoilers ahead.
This week is another Focus Challenge which means the judges are focusing on the face. Ve Neill worked on Mrs. Doubtfire with Robin Williams so she provides some guidance to the contestants. Obviously one major criterion is making the model's face look feminine.
The top images are Nora's Sycorax from The Tempest and Jasmine's Hermione from The Winter's Tale. Nora has trouble nailing down a look at first while Jasmine has issues with her prosthetic and ends up falling back on her strength and painting the whole face (the tears are dried hot glue).
I like Stevie's Hippolyta from A Midsummer Night's Dream. The judges also like the clean make-up and she makes Top Looks. Meg has Queen Mab from Romeo & Juliet. Since the character doesn't actually appear in the play Meg has an opportunity to go bold with an insect look on top of the feminine look. She pulls it off and wins the challenge.
Evan drew Hecate from Macbeth. His creation looks more like an undead drag queen than a witch to me (and to the judges since he is a Bottom Look). Ricky had problems with the prosthetic for his Ophelia from Hamlet. He tries to cover the flaws in the prosthetic by making them look like Ophelia has been picking at her skin but it isn't enough. His creation still looks more masculine than feminine and Ricky is sent home.
One can argue that Meg getting a character who is only described but not appearing in the play gave her an advantage since she could more easily put her own spin on it as opposed to a character like Ophelia. But going bold on Face Off can often fail too and a poor execution could have sent her home. In this case however, fortis Fortuna adiuvat.*
Next week the nine remaining contestants face the Gauntlet.
You can see galleries of this week's designs, the contestants' previous work and previous seasons here.
*I'm sure some Latin experts will nitpick this.