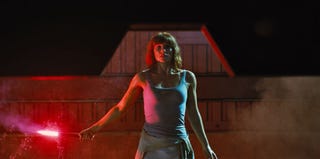 You can probably guess what movie I saw this weekend (more on that below). But what have you been up to? Discuss whatever you want.
Sure Chris Pratt's dino-whisperer gets the most attention but Bryce Dallas Howard's character showed you don't have to wear sensible shoes to be heroic.
It's a good thing I suspected the trailer for The Martian was going to be shown before Jurassic World since I'm reading the book right now. I made sure to get a good chunk of it read before seeing Jurassic World since there's a rather spoilery bit in the trailer that would have pissed me off if I hadn't already read that far into the book. If you don't know what part I'm talking about I won't sully you with a spoiler.