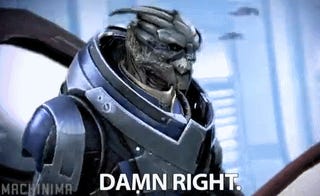 I recently started playing Mass Effect. The jury's still out on this one, but I just might have a crush on Joker and Garrus. I SAID MIGHT!!!!

Game pros:
Good visuals
Well-written dialog trees
Clean balance of quests
Fast-travel is a good thing
Game cons:
OMG THE COMBAT
OMG REAL TIME ELEVATOR SEQUENCES WITH ELEVATOR MUSIC
I have no idea where the story is headed
The leveling trees are confusing at best
Having said that, I think I like it? I need more hours invested in it to fully get it though. I'm still trudging through the beginnings, so my mileage may vary. Any thoughts on Mass Effect? Video game RPG's in general?
Anyhoo, so, how are y'all? I've been insanely busy this week month year and am at an age where I wish there were more hours in the day. Too may projects to work through AND NOW I HAVE TO FLY THROUGH SPACE TO KILL MERCENARIES!!
So, discuss what you will in the comments. Or not. I'M NOT YOUR REAL DAD!!!